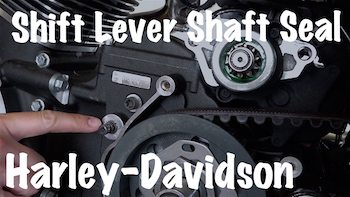 Video-In this completely free DIY video we show you how to remove and replace a shifter lever shaft seal on a Harley-Davidson motorcycle. It doesn't really matter the year or model of Harley, as this seal and setup has been used for a very long time.
This shift lever seal can go bad and start leaking oil. To get to it, you'll need to remove your entire primary drive.
Yup, we'll show you how to remove your entire Harley-Davidson primary drive, remove the shifter lever shaft seal, and then replace it. Then we show you how to put the entire primary back on. We'll also show you some tips and tricks along the way.
Note: You'll need a replacement shifter lever shaft seal and appropriate primary gaskets and seals (shown in the video so check it out). You'll also need appropriate fluids to refill your primary drive.
Save yourself a ton of money by not having to take your Harley to the dealership to have these types of projects done. You can do this right in your very own shop or garage and right on the kickstand. Plus, have the absolute satisfaction of wrenching on your own Harley!


If you appreciate this free video and information then please purchase any products using our below affiliate links.
(no additional cost to you, but it helps support us).
Tools & items needed: (affiliate links)
Torx head wrenches (standard sizes)
Oil for primary (30-40 oz)(replacement after removing the primary)
Appropriate gaskets & seals for primary removal (shown in video)