I wanted to show you the Harley travel tool kit and maintenance items I carry when traveling cross-country on my motorcycle. (see video below)
Being compact and having what you need is most important along with the quality of course. Why have to call a tow truck & be down over a simple repair you can do yourself on the side of the road with one of these awesome Harley travel tool kits.
The Harley travel tool kit items I recommend and use are as follows: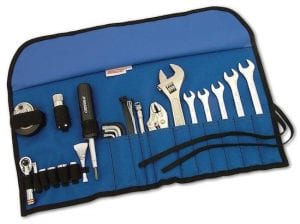 I carry the Cruz Tools RTH3 RoadTech Standard Tool Kit for Harley-Davidson. We have used this tool kit multiple times for things like a quick clutch adjustment, securing a broken shifter linkage, and diagnosing worn shifter splines to name just a few. All these things could have put a stop to our motorcycle trip but we were able to get back on the road and get a more permanent fix when we found a dealership later on.
If you appreciate all the free videos, podcasts, and articles we put out, please consider supporting us. We're trying to help as many bikers as we can worldwide!
The Cruz Tools Harley RTH3 travel tool kit includes top-grade combination wrenches, an adjustable wrench, locking pliers, tire gauge, hex and star wrenches, 6-in-1 screwdriver, threadlocker, mechanics wire, cable ties, spark plug socket, and more. But you'll also love the way-cool mini ratchet and socket set.
I also carry the Cruz Tools Outback'r H13 folding multi-tool for Harley. This little Harley tool kit is powerful, yet will fit in my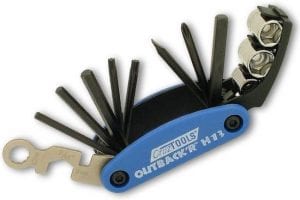 pants pocket folded up. This muti-tool includes torx drives, hex wrenches, phillips & standard screwdrivers, sockets, socket driver, box & open end wrenches, and a spoke wrench.
I add a small amount of duct tape and some extra zip ties. I then wrap everything up in my main Cruz Tools RTH3 Kit for one powerful set of options for emergency roadside motorcycle repairs. This has saved the crew here at Law Abiding Biker™ Media on numerous occasions when far away from home when on our motorcycles.
Note: There are also metric versions of each kit.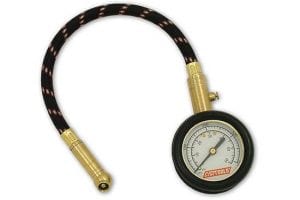 Additionally, for my Harley travel tool kit, I carry a Cruz Tools TirePro Tire Guage. This gauge has a 12" flexible hose that makes even hard-to-get-to valves less of a task. Readings are held until released, and a built-in valve lets you "bleed" down to the desired pressure. Readings are in psi and kPa, and the dial is protected by a rubber boot. I can't recommend this enough. I have one in the shop too.
We are currently testing and will be reviewing emergency motorcycle tire repair kits. We will decide on what to recommend and will add it to the Law Abiding Biker™ Online Store. Make sure you're subscribed to our YouTube Channel, so you get notified when we come out with new videos!
The Cruz Tools I carry for my overall Harley travel tool kit are top quality and are biker tested and biker approved. That's why we brought them directly to the Law Abiding Biker online store!
Join the Free Email Club!
If you appreciate this free information make sure to join the thousands of law abiding bikers that have already joined the free Email Club! You will be notified of new useful motorcycle content and techniques as we put them out. Join the Community now!