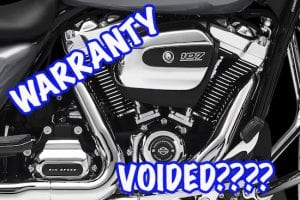 If you currently have or are considering purchasing a Harley-Davidson extended warranty plan at the time of purchase on a new bike with the Milwaukee-eight motor, you may reconsider now and into the future if things stay in their current state. If you are planning on adding specific performance upgrades, it may void both the two-year manufacturer's warranty and any 3 or 5-year Harley extended warranty you purchased, commonly referred to as an "extended service plan". These new strict warranty policies really only pertain to 2017 & newer Harley's with the Milwaukee-Eight motor. Those of us that own earlier models really haven't had to deal with what I'm about to reveal to you.
HELP SUPPORT US! JOIN THE BIKER REVOLUTION! #BikerRevolution #LawAbidingBiker
🛒SHOP IN THE LAW ABIDING BIKER STORE 🛒
😎BECOME A MEMBER AND GET BENEFITS 😎
📹GET PREMIUM MOTORCYCLE TUTORIAL VIDEOS 📹
🎙CHECK OUT THE WEEKLY PODCAST 🎙
Join the Free Email Club!
If you appreciate this free information make sure to join the thousands of law abiding bikers that have already joined the free Email Club! You will be notified of new useful motorcycle content and techniques as we put them out. Join the Community now!