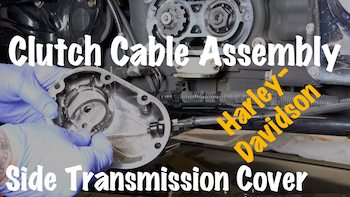 Video-In this free DIY video we show you how to remove your Harley side transmission cover and disconnect & then replace your Harley clutch cable assembly inside. Make sure you have a new side cover gasket ready to go and some oil/fluid to replace what you loose when removing the side transmission cover. There is also a small rubber o-ring you might want to have on hand to replace where the clutch cable enters the side cover. It tends to get damaged during removal/install. It can be re-used if it looks like it's in good condition.
2014 & newer Harley Davidson's have hydraulic clutches, so this side transmission cover is just for looks and you'll lose no oil when removing it. There is just a bleeder valve for the hydraulic clutch line hidden behind it.
Save yourself a ton of money by not having to take your Harley to the dealership to have these types of projects done. You can do this right in your very own shop or garage and right on the kickstand. Plus, have the absolute satisfaction of wrenching on your own Harley!


If you appreciate this free video and information then please purchase any products using our below affiliate links.
(no additional cost to you, but it helps support us).
Remove Harley Clutch Cable Assembly Under Side Cover
Adjust Harley Clutch Lever & Play
Adjust Harley Cable Clutch Internally