Free Video By Bikers for Bikers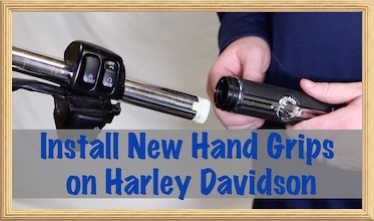 VIDEO-In this DIY video we show you how to easily install new basic handgrips on your Harley Davidson motorcycle. You can change your hand grips for comfort, looks, or both. Save you money and let us show you how to do this, so you don't have to pay a mechanic. You can do it right in your garage on the kickstand with no specialty tools.
We strongly suggest you install Harley Davidson brand heated grips on your Harley. It is one of the best things I ever did to my Harley Davidson. Check out our very popular "Install Harley Davidson Brand Heated Grips on Your Harley" video!
If you appreciate this video and others, please consider purchasing any  items through the below affiliate links:
Install New Hand Grips on Harley Davidson

If you appreciate free information and techniques like this make sure to join the thousands of law abiding bikers that have already joined the free Law Abiding Biker Podcast & Media Email Club!! You will be notified of new useful motorcycle content and techniques as we put them out. Join the Community now!