Free Video By Bikers for Bikers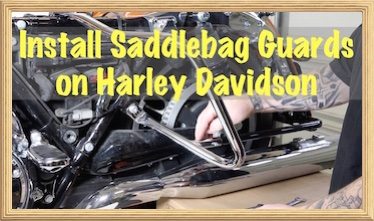 VIDEO-In this DIY video we show you how to easily install saddlebag
guards/crash bars on your Harley Davidson motorcycle. No need to pay a mechanic to do this as we show you everything you need to know. You can do it right in your garage and right on the kickstand. No specialty tools are needed.
If you appreciate this video and others, please consider purchasing any Harley items through our Adventure Harley Davidson Affiliate Link to support this content.
Saddlebag crash guard bars are a very good idea to have. Let's face it, motorcycles can get tipped/laid over for an array of reasons. With these guards in place you will walk away without having damage on your expensive Harley saddlebags. There are also several aftermarket items such as water bottle holders that can also be mounted to these saddlebag guards.
If you do have damage to your saddlebag you will definitely want to check out our Free Replace Harley Davidson Saddlebags, Lids, & Parts Video!
Install Saddlebag Guard/Crash Bars on Harley Davidson

If you appreciate free information and techniques like this make sure to join the thousands of law abiding bikers that have already joined the free Law Abiding Biker Podcast & Media Email Club!! You will be notified of new useful motorcycle content and techniques as we put them out. Join the Community now!