Free Video By Bikers for Bikers
VIDEO-In this video we show you how to change out the saddlebags &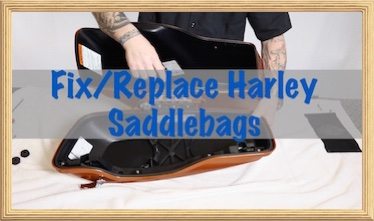 different parts on your Harley Davidson motorcycle. We used a 2014 Harley touring model for this video, but it can be used for an array of years and models.
If any part of your Harley Davidson saddlebag gets damaged, to include any of the internal components, don't rush down and buy an entirely new set of saddlebags. The fact is that you can change out just the saddlebag lower, lid, or any of the other components & we can show you how to do this.
How to Replace Harley Davidson Saddlebags, Lid & Parts
The saddlebags on a Harley Davidson can't really be fixed with standard type body work, so you will need to order the lower, lid, or both. Harley will match the paint code and ship it to you ready to go. If you have a custom aftermarket paint job then you will need to order the part of the saddlebag you need and have your custom painter try to match things up.
You can order just the lower or lid shells and use the other components that are still good within your saddlebags. This will save you money as an entirely new set of saddlebags can be very costly. Plus you can do it yourself and save labor costs.

If you appreciate free information and techniques like this make sure to join the thousands of law abiding bikers that have already joined the free Law Abiding Biker Podcast & Media Email Club!! You will be notified of new useful motorcycle content and techniques as we put them out. Join the Community now!