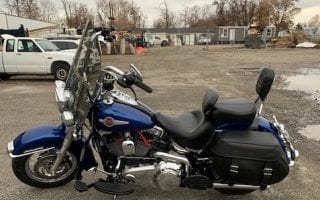 This article is written by Richard Kane, "Big Daddy Kane" or "BDK", as many of you know him as.
We here at Law Abiding Biker™ Media are avid riders having done many rides. Even more than that, I believe we are addicts for all things motorcycles, whether it is wrenching, researching parts, or just installing quick accessories. Plain and simple, we love everything about motorcycling. And although some may think we are Harley-Davidson centric, that is not the case. For the last two years, members here have enjoyed enduro trails and adventure riding. And as you can see from our video catalog on our YouTube Channel, we like to capture these experiences for our beloved and loyal audience.
This article is about what I have done to my most recent project, a 2017 Harley-Davidson Heritage Softail. What did I learn, what did I do and what would I have done differently? These are all good questions for you, the rider that is looking at getting a first or second bike. In 2018 Harley-Davidson revamped the softail series, going from the old platform with the dual shocks on the bottom of the frame to a more traditional shock system. I found out after my purchase that the 2015-2017 Softail is a bit different parts wise in some circumstances than the pre-15' models. So, why did I choose this bike? Well, it came along and was in the right price range for me. I really enjoy having a lighter bike to cruise around on. I love my Ultra Limited for all rides, but there is something about the non-fairing bikes that really makes me feel as though I am part of the road. More wind, more noise, no radio, and they are light and nimble in comparison.
My previous around town bike was my beloved 2001 Harley-Davidson Road King. Chola, as she is known to many of our listeners, was destroyed in a fire. And, I have always liked having a lighter around town bike that I can also do a two to three-day trip on if I want. This Softail, before any modifications, was used for the 2020 Patreon Pacific Northwest ride where I did almost 800 miles over 3 days. I learned a lot from that ride and immediately knew I had to make some adjustments. Links to some of the products I used are in this article.

Let's start with the basic bike information. I purchased it used from Rattlesnake Mountain Harley-Davidson. The bike had just over 3000 miles on it and now it has around 6000 miles in just under 8 months. This isn't my only bike, so I split time on it. What I found is that the stock suspension is not that great, the stock handlebars had been replaced with reach bars, the exhaust had been self-customized, and the windshield was junk. Whoever owned it before me must've been of shorter stature and it clearly was not going to work for me. In the documentary film for the NW ride, you can see my arm and hand position were very short and uncomfortable. This left me going through turns and twists without much confidence.
The first project I focused on performance. I began by junking the stock headers and exhaust. The previous owner had crushed down the baffles and then cut the mufflers down. And even worse, they painted the headers and mufflers a dark blue. This is probably one of the reasons I got the bike at a great price. The paint was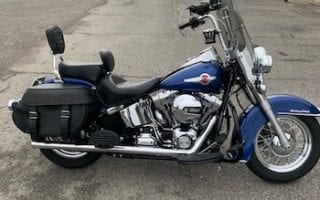 flawless, so I knew I was not going to invest in that. I went with a Vance and Hines FP3 electronic fuel injection tuner to start. I love their products and we have so much faith in them we sell them in the Law Abiding Biker store.
Next, I installed Vance and Hines Softail Duals. These are great sounding pipes and we can custom order them for you if you contact us in the Law Abiding Biker Store. However, after 3000 miles of riding, I now think that I would have done something different. Why do you ask? With these pipes there is a crossover from the right to left and it snakes over the primary on the left. This is somewhat uncomfortable with my legs down, especially during a hot day, which we get plenty of here in Central Washington. I think I would have installed a Vance and Hines Pro Pipe instead.

Once I was done with the performance it was time to change to the handlebars. I am 6'3" with long arms and I wanted to be comfortable. I went with a brand and model I have used several times and really like them. We do not currently sell this brand in our store. I went with 12.5" Wild 1 1 ¼" Ape Hangers. To accompany these bars, I added HD black grips, black levers, and stainless steel braided clutch and brake lines. I did not use a pre-made kit. My mechanic buddy, Tyson Musson, from City V-Twin in Richland, WA, has been a great resource and recommended we measure to make sure they were not too long or too short. We also bled the front and rear brake lines at the time since the fluid was over 2-years old. Tyson does great work, is a really great guy, and if you are in the area stop by his shop. He is also a knowledgeable mechanic and will not treat you wrong
I next focused on the leather saddlebags. First, I tried a set of medium-sized Viking bags. They are of good quality but are too small. Even with a solo luggage rack, space for items was limited. So, I did some research and found a company called Boss Bags and we are not currently affiliated with them. The process was easy and you simply remove your saddlebags and ship them off. This is a bit spendy but I had heard good things about their work. For the 15-17' models you have to replace the lid with one of their custom made ones. I did not wish any concho's or medallions on the bags and they accommodated my request. The process is a complete bag regeneration with plastic inserts to firm up the stock leather saddlebags. Harley-Davidson leather saddlebags are known to sag over time and the fix is to place inserts into the bag. There are many options out there including do it yourself kits. Boss Bags guarantees their work so they require you to send the bags to them and they install the components. The work was really good and I opted to have the longer leather straps put on. Say goodbye to the wind blowing the straps out of the holder! In all this was an expensive update with shipping and labor expenses. But, the work is good and they look great. If you decide to make a purchase from them please let them know Law Abiding Biker Media referred you.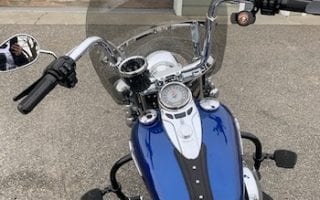 We often speak about safety and part of that is lighting. Traditionally we have used Ciro3D's Vision X 7" headlight. It truly is the best LED headlight on the market! If you install this light on your touring model, make sure to take a look and determine if an adapter is needed. For some stock bikes, you may need the Delphi Flat 4 to H4 Adapter. Or, if you have a dual halogen you will need the Dual Beam Adapter. All the proper fitment information can be found in the Law Abiding Biker Store. For my installation, I only added the All On Low/High Beam Adapter. This allows your low beam to stay on when you switch to high beam.
For this Softail project, I decided to use another brand of headlamp we carry in our store. The Rivco 7" LED Headlight comes in chrome and black. I did this to test the product. The Rivco is a great budget headlight. It looks like the MoCo's LED headlight but adds a halo light ring. It is bright, and easy to install. This light comes attached to a bracket for the batwing fairing. For non-batwing fairings, you merely have to remove the light itself from that bracket and it installs just like if it came as the lamp only. You use the stock trim ring and install is a breeze. I also added Rivco LED Passing Lamps in chrome. Wow, these lamps are bright and also very easy to install. In all, I am very satisfied with these Rivco products. They are not as bright as the Vision X but an alternative at a cheaper price.
The last improvement made was suspension. I went with Progressive Suspension, which included new front fork springs and rear softail suspension. I must say, the change is noticeable and well worth the task. We offer Progressive Suspension in our store and if you need something and you do not see it on the website just contact us and we can check availability and get an invoice to you.
For the rear, I went with Progressive 442 shocks. They have a nice chrome finish and I added an adjustment tool to my tool chest.
Lastly, I added some accessories that we stock in our store, including the Biker Gripper Cell Phone Perch Mount, and a Ciro 3D Drink holder.
At this point, I am satisfied with the changes that were made. If you are interested in doing some of these changes, remember we have instructional videos on changing handlebars, cables, and more on the Law Abiding Biker YouTube Channel. Also, if you are looking to purchase some of these products, please head on over to our store and always contact us if you do not see what you need. Next up, will probably be a cam, polished heads, and maybe even a bigger displacement. But, I will wait to get some more miles on the bike before I tackle that.
Join the Free Email Club!
If you appreciate this free information make sure to join the thousands of law abiding bikers that have already joined the free Email Club! You will be notified of new useful motorcycle content and techniques as we put them out. Join the Community now!