Save money now. Remove your Indian front fender brake inspection panel & inpsect your brakes yourself.

Have the pride & satisfaction of working on your own Indian!

Do it in your garage or your workspace!
Another Free Video By Bikers for Bikers
VIDEO-This is a Free tutorial video on how to remove the front fender brake inspection panel and inspect your brake pads on your Indian motorcycle. This tutorial video will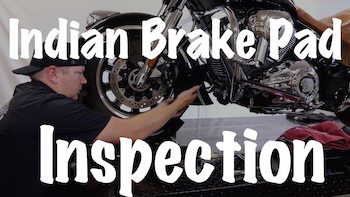 work for an array of years and models of Indian motorcycles. You need to routinely inspect your brake pads and calipers when you are doing routine oil changes and safety inspections on your Indian motorcycle.
Related Video Suggestion:
Start saving your money now by not having to rely on a motorcycle shop or dealership perform routine maintenance on your Indian motorcycle.  This video is made by bikers for bikers.
Indian Brake Panel Removal & Brake Pad Inspection
Free Email Club:
If you appreciate free information and techniques like this make sure to join the thousands of law abiding bikers that have already joined the free Law Abiding Biker Podcast & Media Email Club!! You will be notified of new useful motorcycle content and techniques as we put them out. Join the Community now!