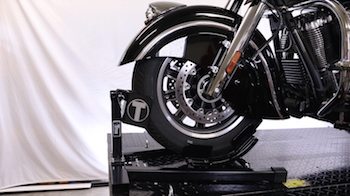 Need the best motorcycle wheel chock on the market for your Indian Chief, Chieftain, or RoadMaster motorcycle? The Titan Bulldog Custom Profile Motorcycle Wheel Chock is your answer. We know this from personal experience and have recently been doing some maintenance & videos on a 2014 Indian Chieftain here at Law Abiding Biker™ Media. We found there is plenty of clearance on the front fender of the Indian to easily fit into this wheel chock.
We have the Bulldog Custom Wheel Chock mounted to the front of our Titan 1000D Motorcycle & ATV Lift Table. Of course with the quick detach base plates you can move the wheel chock from here to there with ease. Put a base plate on your garage floor, one in a trailer, and one on the front of your Titan lift table.
We are an authorized Titan Lift Distributor, so visit our store.

We can assist you with any Titan product you may be interested in.
Links for further information on the Titan Bulldog Custom Profile Wheel Chock:
We are an authorized Titan Lift Distributor, so visit our store.
Join the Free Email Club!
If you appreciate this free information make sure to join the thousands of law abiding bikers that have already joined the free Email Club! You will be notified of new useful motorcycle content and techniques as we put them out. Join the Community now!