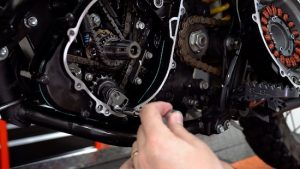 Both generations of the Kawasaki KLR 650 have had a serious issue with the counter-balancing chain adjustment mechanism, or as most call it, a "doohickey". Basically the doohickey tensions the counter-balancing chain and this helps neutralize engine shake and vibration, which makes for a smoother running engine.
If this mechanism goes bad it can cause engine failure. This stock mechanism has failed at varying times for many riders and it's very unpredictable as to when or if it will happen.
Due to the unpredictability, I strongly suggest you just replace the stock mechanism on your KLR 650 with a replacement Doohickey right away, regardless of the mileage. It's not that expensive to do and it can save you a lot of money and headaches in the future. Plus, with our tutorial video, you can do this yourself right in your own shop or garage. There's no need to pay a mechanic to do this.
Eagle Mfg. makes a Doohickey, which replaces the weak stock piece with a stronger design. The basic kit comes with a couple of stretch springs similar looking to the stock spring and you choose a size to use. But, I'd suggest going all in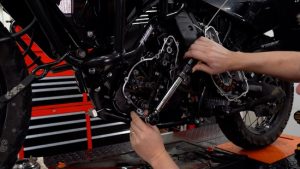 and getting the additional and more robust torsion spring upgrade to the kit for a few bucks more. This is your best option and only requires you to drill a single hole with the included drill bit. Don't worry, we show you how in this video.
Items Needed for the Doohickey Install:
*Support us if you appreciate this and all our free helpful videos. Links directly to the Law Abiding Biker Store.
Replacement Rotor Bolt for Kawasaki KLR650 (optional)

The manual recommends a one time use. Many don't replace it and re-use the bolt.

Oil-10w-40 (2.1 quarts)
Join the Free Email Club!
If you appreciate this free information make sure to join the thousands of law abiding bikers that have already joined the free Email Club! You will be notified of new useful motorcycle content and techniques as we put them out. Join the Community now!