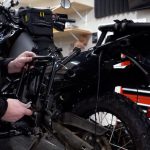 In this video, I show you how to install Tusk Pannier Racks and Tusk Panniers on a 2018 Kawasaki KLR 650. The procedures will be the same for 2008 & newer KLR's. These racks and panniers are also available for 1987-2007 KLR's. You can also choose from medium or large size and they come in silver or black. I went with the large size and I figure if you're going to add these to your KLR then just go big and get the extra storage room. I also added Tusk Pannier Handles and Tusk Pannier Box Liners. The Tusk Panniers are available for many other makes and models of adventure and dual-sport motorcycles.
Adding panniers to your KLR is a necessity if you are going to ride long distances or go beyond a simple day trip. The KLR has zero storage until you add something like this. There are additional storage options you can add such as a backpack and tank bag. I recently reviewed the Wolfman Blackhawk Adventure Tank Bag.
I have been riding with these Tusk Panniers for KLR's and really like them. I like that the build quality is solid, yet they are very affordable compared to some other options on the market. These panniers are secure with locks included on the latches along with an inside pannier safety bolt. With the lids locked and pannier bolt in place, they cannot be removed from your KLR or other brand adventure motorcycle.
The Tusk Aluminum Pannier Boxes are designed and manufactured to handle the most extreme adventure motorcycling. These panniers are loaded with features to offer unbeatable value! They are made from durable yet lightweight aluminum with a tough silver or black powder-coated finish.
Not only do these Tusk Panniers for KLR look great, but they prevent the items you store from getting the black residue produced when rubbed against unfinished aluminum. Unique design eliminates seams on the back two vertical edges (weak spots on other panniers), and all existing welded seams are reinforced with internal stitch welds. For security and convenience, the boxes come complete with 4 (2 on each box) matched locks and keys already assembled on the latches! A rubber gasket at the top of the box ensures the lid is tight and waterproof.
Each lid comes complete with 4 bolt-on footman loops to secure additional items. Each Large box is 37 Liters and measures 15 ½" tall, 9 ¼" deep, and 18″ wide. The Medium boxes are 27 Liters each and measure 14 ¼" tall, 7 ½" deep, and 16 ¼" wide. This is a complete kit with all the mounting hardware to outfit your bike for the next adventure.
Features of Tusk Pannier Racks & Panniers:
Join the Free Email Club!
If you appreciate this free information make sure to join the thousands of law abiding bikers that have already joined the free Email Club! You will be notified of new useful motorcycle content and techniques as we put them out. Join the Community now!
Tusk Panniers & Racks
Summary
I really like that the build quality of the Tusk Panniers is solid, yet they are more affordable than other options on the market. I also like that you can choose a medium or large pannier and they come in silver and black. The seal up very nicely and come with locks on the latches. They cannot be taken off your motorcycle with the lids locked and the safety bolt installed inside. These are very rugged panniers and will last a very long time.