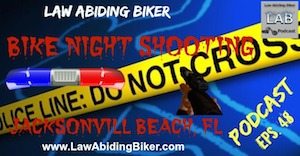 BLOG-This is a reliable and unbiased update on the fatal shooting that occurred on June 26, 2014 around 8:00 PM outside Nippers Bar Grille in Jacksonville Beach, Florida. The Jacksonville Beach Police Department has identified the deceased as 40-year-old Zachariah Tipton.
Calling all Bikaholics our there! Make sure to listen in on Law Abiding Biker Podcast Episode #48 & Episode #49 for facts &  information on this incident. Get connected with the law abiding biker community. Get involved and stay informed with reliable information.
This update is based on reliable unbiased information and a combination of many sources. While we can't say everything is 100% correct, we do the absolute best we can to make sure we have what we believe to be facts or at least reliable credible information before reporting on these matters. This is unlike many of the other biased blogs that clearly have an agenda.
Here is the information up to this point based on evidence and reports available. Don't listen to the dishonest bloggers reporting on this incident. The truth will be told to all in time. Law Abiding Biker Podcast & Media does not claim to know all the truths or information and we will base our analysis on facts and evidence as it is presented. We will remain patient and unbiased.
The fatal shooting of Outlaw Motorcycle Gang Member (OMG) Zachariah Tipton occurred on June 26, 2014 around 8:00 PM outside Nippers Bar Grille in Jacksonville Beach, Florida.
It is currently under investigation by law enforcement officials.
Tipton was shot one time in the head.
Zachariah Tipton was a member of the Black Pistons Motorcycle Club.
The Black Pistons MC is an outlaw motorcycle gang (OMG) support (puppet) club for the Outlaws Motorcycle Club. In their world this means they can't ride around the area displaying their three piece colors/patches on the back of their leather vests without a bigger club (Outlaws) giving them permission and they must wear a patch "cookie" on the front of their vests supporting the bigger club. They seek protection from the bigger club. Many in the puppet club want to join the bigger club and will do dirty work to try and do so.
The Outlaws MC is public that they are a 1%er outlaw motorcycle gang (OMG) club and assume the lifestyle associated with such.
The Outlaws MC website is pretty much identical to most other OMG club sites with no information of real use and they are very secretive.
Zachariah Tipton had a wife and three children.
Zachariah Tipton had a glass cleaning business.
The unidentified shooter is a prospective member with the Iron Order Motorcycle Club.
There was a physical altercation between Tipton and the shooter prior to the shooting.
The shooter is not in police custody and was released the night of the shooting. He freely stated he was the shooter and did not try to flee the scene.
The shooter is not and has never been a law enforcement officer. He is in the military or was in the military.
There were likely other Iron Order MC members present with the prospective member. There were likely other Black Piston MC members present. There may have been more than one altercation or several persons assaulting another.
The Iron Order MC publicly states and it is visible on their website that they claim law abiding biker motorcycle club status. They don't hide their faces like OMG clubs and they have pictures on their website. They clearly don't follow the little rules that the 1%er clubs think somehow exist.
Both clubs have a chapter in this area of Florida.
It is absolutely normal to not name a shooter in an incident until things calm down and it can be determined it will not hinder a serious police investigation by doing so. The shooter's name will be released in time, so be patient. What purpose would it serve at this point anyways? Would it change the incident? No it would not is the answer.
The Iron Order MC prospective member had a bloody nose and appeared to have been in an altercation per witnesses.
There is either surveillance video and/or cell phone camera footage in police custody that will tell the story when released. It will be available when the investigation is completed. Regardless of what the video shows there will be ignorant bloggers and reporters that will still try to make things up that aren't true.
There are many unbiased witnesses with no agenda that were frequenting Nippers Bar Grille at the time of the shooting. They will certainly tell the true story with no motive of what happened. Some out there will not like what they say & reject it.
Nippers Bar Grille did a fundraiser to help the family of Tipton. Not everyone at Nippers or supporters of the fundraiser support or agree with lifestyle choices (OMG), but want to support the family who were uninvolved & likely unaware.
It is very normal in large scale police investigations that investigators not release exact details to the public right away, as to protect the integrity of an investigation and as to not bias witnesses. When the case is adjudicated it will be disclosable to the public, which is standard here in the United States. If the police released information and it screwed up the investigation then the dishonest blogging trolls would jump on that and blame the police for a sloppy investigation I assure you.
There will likely be a statement made by a Prosecutor of some sort when it is determined whether it was justifiable homicide or not. Facts at that point will be much more free flowing, which is commonplace.
Mainstream media does not talk about the club/motorcycle aspect of the incident  much because they are not educated on such.
There is no grand conspiracy theory.
Law Abiding Biker Podcast & Media will update you further as actual facts and reliable information comes forth.
Here are some videos you may be interested in:
Keep the rubber side down and the shiny side up.