By Bikers For Bikers
Beware of the knock off look alike motorcycle cell phone holders out there!
Okay, so us bikers don't want to spend our hard-earned money on one of those cheap throwaway cell phone motorcycle mounts currently on the market! Yes, you can get one on Amazon or eBay. You'll find a plethora of junk cell phone & GPS mounts made in China. Yes, they are very cheap in price, but also in quality, so don't get suckered in Bikaholics!
We here at Law Abiding Biker™ test motorcycle related products thoroughly for the average ever day biker out there. We tested many of these cheap, bulky, ugly motorcycle cell phone mounts over a long period of time. Once we found the sexiest, strongest, and sleekest cell phone & GPS mount out there, we brought it directly to the Law Abiding Biker™ Store for you! Have no doubt, the Biker Gripper Motorcycle Cell Phone Mount is second to none!
I can't understand how anyone could take their beloved motorcycle and then junk it up with one of these cheap motorcycle cell phone mounts? Plus, why would you risk putting your expensive smartphone in one of these cheap unproven holders?
Most of these cheap Amazon and eBay holders were not even specifically designed or tested to be used on actual motorcycles, but on bicycles instead. They are just trying to sell it to you as a motorcycle holder. Take a look on Amazon or eBay-you'll see same exact cheap holders and pictures with a ton of different brand names. They must think bikers are stupid. These holders are made in a Chinese factory.  Amazon sellers out to make a quick buck off bikers buy them for cheap, re-list them, and give them a name.
There are several Amazon & eBay sellers trying to copy Biker Gripper and sell knock off look alike Biker Grippers. They call them different names and they are certainly not made the same.
As a real world biker, trust me when I say you absolutely will not find any motorcycle cell phone mount better in all categories than the Biker Gripper! You can get it exclusively in the Law Abiding Biker Store, a name you can trust. Check out the overwhelming reviews in our store. There are tutorial videos over there too along with more information.
Each Biker Gripper mounting system is crafted in the USA through a patent CNC process using high-quality aircraft grade aluminum. The body of the Biker Gripper is injection molded using Dupont Delrin Acetel resin thermoplastic. The Biker Gripper has 18 lbs grip strength and doesn't need any junky straps or cases, making it the sleekest and strongest motorcycle cell phone mount out there.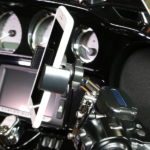 The Biker Gripper can hold any size phone. I hold my Apple iPhone 6 Plus S securely and travel cross-country!
Check out these cheap cell phone motorcycle mounts: (click on any picture to find out the cheesy Amazon or eBay "brand" name)
Join the Free Email Club!
If you appreciate this free information make sure to join the thousands of law abiding bikers that have already joined the free Email Club! You will be notified of new useful motorcycle content and techniques as we put them out. Join the Community now!