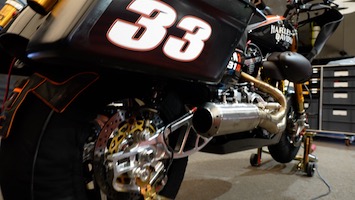 I recently had the opportunity to attend a pre-season practice session of the Harley-Davidson (H-D) King of the Baggers (KOTB) factory race team. I was able to observe the team and riders at work as they prepared for the 2023 KTOB season. I was given exclusive access and got to hang out inside the large tent the Harley-Davidson race team had set up for this practice week in Arizona. Inside the tent were the actual 2023 Harley-Davidson King Of The Bagger race bikes in all their glory! While inside the tent, I got to really walk around and examine these bikes and all their modifications. (See video below)
Check out my Harley-Davidson King of the Bagger testing videos:

It was amazing to see how dedicated the entire Harley race team and riders are to this sport. I watched as the Wyman brothers raced their modified Harley baggers around the track and oh what a sound that is. It's literally music to my ears. If you haven't heard it in person, you really need to get to a race.
After laps, the Wymans would bring their bikes either near or into the tent, where the very dedicated race team would make any changes or modifications to the motorcycle itself or hook it up to a computer for tuning or data acquisition. The entire team works together well and each member has their own duties.

The KOTB bikes are required to start with a stock frame. Here is a list of modifications done to the KOTB bikes:
The 131 c.i. engine (approx. 150 horsepower and 150 foot-pounds of torque)

Compression is pumped up with high-performance pistons
Racing cam
Larger fuel injectors
Larger Throttle Body and Intake
Racing exhaust

Upgraded cooling

Larger oil cooler in the fairing
Extended cooling fins
Horn fangs (scoops air onto the rear cylinder)

More ground clearance for improved lean angle

55 degrees as compared to the stock 32 degrees

Ohlins Screamin' Eagle suspension
Mid foot controls
Reduced weight

Removed non-essential parts
Usage of carbon fiber and aluminum parts
The bikes are around 645lbs as compared to a stock bike at 850lbs

Chain Drive
Aluminum swing arm
Aluminum primary cover designed for maximum lean angle
Brembo 4-piston brakes
Race seat designed for individual riders
Racing grips, levers, and controls
KING OF THE BAGGERS 2023 SCHEDULE AND TICKETS
HELP SUPPORT US! JOIN THE BIKER REVOLUTION! #BikerRevolution #LawAbidingBiker #Bikaholics
🛒SHOP IN THE LAW ABIDING BIKER STORE 🛒
😎BECOME A MEMBER AND GET BENEFITS 😎
📹GET PREMIUM MOTORCYCLE TUTORIAL VIDEOS 📹
🎬WATCH OUR MOTORCYCLE DOCUMENTARY FILMS HERE🎬
📱SHOP OUR AMAZON RECOMMENDED PRODUCTS 📱
🎙CHECK OUT THE WEEKLY PODCAST 🎙
Join the Free Email Club!
If you appreciate this free information make sure to join the thousands of law abiding bikers that have already joined the free Email Club! You will be notified of new useful motorcycle content and techniques as we put them out. Join the Community now!