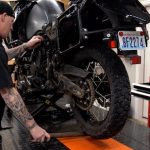 In this video, I show you how to replace your Kawasaki KLR rear shock spring. The spring I chose to use is a Top Gun rear shock spring for Kawasaki KLR 650 for years 1987-2018. Changing this rear shock spring is one of the first upgrades you should do your KLR as it's very soft and was not designed to carry extra weight or luggage. Changing only the spring instead of the entire rear shock is the most economical way to go.
There are different models of the Top Gun KLR rear shock spring and the one you choose will depend on what weight you anticipate carrying.
The Top Gun Rear shock springs are heavier and allow for added weight from a passenger or luggage and are made with the highest quality materials for accuracy and consistency. A properly sized (weighted) spring can put you at the correct ride height for adequate suspension travel.
I have been running this Top Gun spring on my 2018 Kawasaki KLR and have been very happy with its performance.
For this project, you'll want to get a set of Tusk Spring Compressors. These are affordable and of great quality. These will allow you to get the stock spring off the shock and get the new spring on.
Features of the Top Gun Shock Spring for KLR:
Replaces the stock light shock spring so the KLR can support heavier loads (luggage for example).
Made with the highest quality materials for accuracy and consistency.
3 spring rates available to better suit each rider refer to the weight chart when deciding what spring is best for you.
Made in the USA
Join the Free Email Club!
If you appreciate this free information make sure to join the thousands of law abiding bikers that have already joined the free Email Club! You will be notified of new useful motorcycle content and techniques as we put them out. Join the Community now!
Top Gun Rear Shock Spring for KLR
Summary
This is a great affordable option to replace that soft stock spring on your KLR. I have been very pleased with the spring and it allows me to properly adjust preload even with luggage and extra weight. With my video, you can install this spring yourself.