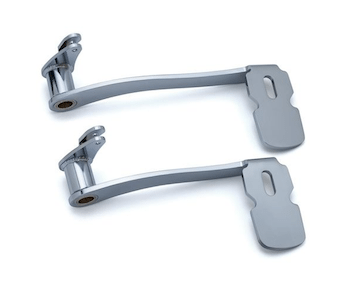 Harley stock rear brake pedals are too far back and sit up too high. It's hard to cover your brake with your foot when approaching intersections. It is just an unnatural position and a safety issue as your toes actually sit underneath the rear brake pedal while resting your feet on the floorboards. (see install video below)
I don't know why Harley puts stock rear brake pedals in this ridiculous position. I am 5′-8″ tall and average size and the pedal is still awkward. I can only imagine how awkward it feels for taller riders. I need to be able to comfortably cover my rear brake and also apply it quickly if necessary.
This is why we now put Kuryakyn Extended Brake Pedals on all our Harley touring models and carry them right in the Law Abiding Biker Store. It puts the pedal forward about 2 1/4″ and lowers it. I can tell you this is significant and puts it in a much more ergonomic position. It makes it safer to easily cover your brake and apply your rear brake quickly without your toes being underneath it.
We also have a free Kuryakyn extended brake pedal install video!
HELP SUPPORT US! JOIN THE BIKER REVOLUTION! #BikerRevolution #LawAbidingBiker #Bikaholics
🛒SHOP IN THE LAW ABIDING BIKER STORE 🛒
😎BECOME A MEMBER AND GET BENEFITS 😎
📹GET PREMIUM MOTORCYCLE TUTORIAL VIDEOS 📹
🎬WATCH OUR MOTORCYCLE DOCUMENTARY FILMS HERE🎬
📱SHOP OUR AMAZON RECOMMENDED PRODUCTS 📱
🎙CHECK OUT THE WEEKLY PODCAST 🎙
Join the Free Email Club!
If you appreciate this free information make sure to join the thousands of law abiding bikers that have already joined the free Email Club! You will be notified of new useful motorcycle content and techniques as we put them out. Join the Community now!