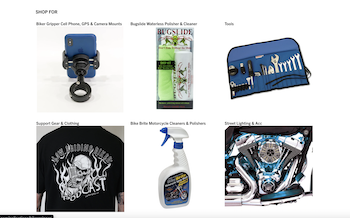 Brian and I often get emails from customers wanting advice, or updates on new products that have hit the motorcycle market. This is definitely a great time for the industry. Several new manufacturers have come to the industry and established ones are coming out with great new products. Normally, once a month, I conduct a Facebook live where I discuss the industry and some of these new products. Today, I have decided to write an article where I can speak about them a bit more.
As most followers know we sell what we use or have tested. We do this because we are putting our name and reputation behind these recommendations. I know there are some YouTuber's, Vloggers, and Podcasters that endorse products that they have not tested themselves. Here at Law Abiding Biker, we do not do this, we test all our products. We prefer this method as we can recommend an item, offer it for sale, and know it truly is a great product. We think our readers and viewers want an honest opinion on a product we have actually tested and used rather than just showing us installing it. If we are willing to put it on our bike and sell it that should provide confidence in the buyer's decision.
While not new to the market by any means, the following two brands have recently been added to the store. We recently expanded our store products to include maintenance items. While we have access to several brands we chose to sell Amsoil and Lucas products. These two products are the best of the best. Years of testing and in Lucas' case, racing. There are so many options now when it comes to changing your motorcycle oil. You can use 20W50 in the motor, transmission, and primary. Or, like me, I like to use 20W50 in the engine and a specific primary and transmission gear oil.
There are reasons to do either, but I find using a specific fluid makes shifting better. We get oil recommendation questions all the time, so now you know what we use. I also prefer Maxima Air Filter Maintenance Products. I have used other kits, but I find this one to be the best. The cleaner is an aerosol spray rather than a pump spray. It gets into the filter really well and cleans it better in my opinion.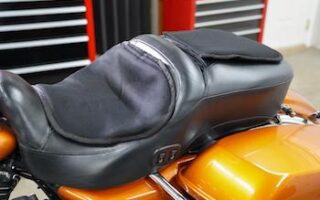 Another product that is relatively new is the military and color option variants of the Butt Buffer. We have been selling the ButtBuffer Classic and Butt Buffer Pebble Polymer for over a year. And, we sell a lot of them! They are made of a super-thin medical-grade material that will outlast air or gel systems. We now offer the military cover options as well as several color options in the classic version.
I recently used a classic version on my 5 day 2488 mile ride. I really liked it and Ryan, Matt, Cowboy, and others have used them on rides for over a year. It's a great product that can improve your ride.
We often get emails asking about Bluetooth communicators. Sena has come out with several new Bluetooth options over the last year. The 50 series has two options and offers some upgrades over the 30K version. They also have some camera units now for those that like to record rides. We have been using Sena Communicators for years and they are great. We offer an assortment of products to include 1/2 helmet options. Sena is a leader in the market and the products are well made.
The last topic I am going to discuss is lighting. We get emails about lighting more than any other topic. In full disclosure, lighting to me is more than just cosmetic. Lighting equals safety. Adding more lighting to the front, or rear of your motorcycle helps you be seen better. We offer several options for our customers. Sticking to safety, I highly recommend several products for bikes. One of the first additions I always do is LED turn signals and the Ciro Fang turn signals are my favorite. Another great addition is an LED Headlight Bezel. Ciro makes them for the batwing fairing and the shark-nose fairing.
Speaking of the shark-nose fairing lights, they offer several products that improve the fairing. We offer several free install videos and you can see them here! Two items I added to my Harley Ultra Limited recently were the Ciro Horizon Windshield Trim & the Ciro LED Lighted Vent Trim. Do not worry, they have units for your Road Glide as well. Maybe you just want some cool decorative lights? The Ciro LED Engine Lights will keep your bike moving in style.
For the rear of your Harley, I recommend filler lights. Ciro's filler lights come in two versions. One for Ultras and one for touring models with filler panels. They are easy to install and are really bright. Now the last option I recommend is saddlebag lights. We have several options for you from Ciro Bag Blades, Machete LED Saddlebag Lights and their new Saddlebag Hinge LED Covers. We will be completing an install video on the Hinge Covers soon and once it is done the video will appear on the product page.
On behalf of Law Abiding Biker, let me say thank you for being a follower of our podcast and YouTube videos. Without your support, we could not continue to help bikers worldwide. If you want to further support us, please visit our support products page and consider purchasing a shirt, coin, or hat.
Join the Free Email Club!
If you appreciate this free information make sure to join the thousands of law abiding bikers that have already joined the free Email Club! You will be notified of new useful motorcycle content and techniques as we put them out. Join the Community now!