Tested by Bikers for Bikers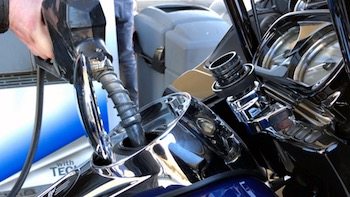 The Motorcycle Gas Kap Keeper by Rickrak quickly installs on your stock Harley, Indian, or any other motorcycle's stock gas cap. It is a very strong magnet with a non-abrasive coating, so when you stick it to your motorcycle it won't scratch things.
Never lose your motorcycle gas cap again by setting it on top of a gas pump and then riding off. With this simple Gas Kap Keeper installed, you can stick your cap to any metal surface on your motorcycle, so it will always be there for you.
Additionally, you won't have to set your motorcycle gas cap on some dirty surface where it can pick up dirt and grime that you don't want ending up in the fuel tank.
We love this product so much we are all now using the Gas Kap Keeper on our motorcycles here at Law Abiding Biker Media. I also love using this product on my Police Harley. I am often in a hurry, so this product certainly keeps me from leaving my gas caps behind!
Join the Free Email Club!
If you appreciate this free information make sure to join the thousands of law abiding bikers that have already joined the free Email Club! You will be notified of new useful motorcycle content and techniques as we put them out. Join the Community now!