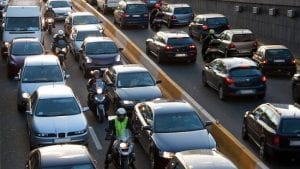 In the below video, I talk about the fact that motorcycle lane splitting or lane filtering may be legalized and coming to your state in 2019? California is still the only state where motorcycle lane splitting is legal and many other states are watching closely. Unfortunately, lane splitting has become a rather controversial topic. Mostly, by those that don't understand the many benefits of motorcycle lane splitting & don't ride motorcycles themselves.
The following states are in different stages of possibly legalizing motorcycle lane splitting:
Maryland, Connecticut, Utah, Oregon, Texas, and Hawaii. If legalized, each state has its own ideas and rules on how motorcycle lane splitting can be done. Examples are, whether it can only be done when traffic is stopped and at what speeds you can actually do it.
HELP SUPPORT US! JOIN THE BIKER REVOLUTION! #BikerRevolution #LawAbidingBiker
🛒SHOP IN THE LAW ABIDING BIKER STORE 🛒
😎BECOME A MEMBER AND GET BENEFITS 😎
📹GET PREMIUM MOTORCYCLE TUTORIAL VIDEOS 📹
🎙CHECK OUT THE WEEKLY PODCAST 🎙