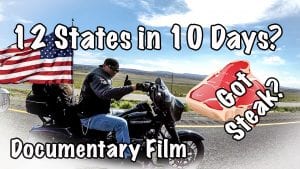 I am an independent filmmaker along with many other hats I wear. My mission is to help and entertain as many bikers as I can worldwide. A ton of personal man-hours and expenses go into creating large motorcycle documentary films like this. A film like this is usually for purchase for well over a year and then it's eventually released on YouTube.
**Support us and get some cool Law Abiding Biker swag to wear around! We appreciate it very much. Get Swag Here!
My Other Free Documentary Films to Watch:
About this Documentary Film:
It doesn't matter what kind of motorcycle you ride, as the film is not about that. This film is for all riders who have a passion for motorcycles and the lifestyle. I guarantee this film will touch, move, inspire, and most of all, entertain you. There are many exciting stories to follow within.
This documentary film is about a group of brothers that rode motorcycles cross country for 10 days and covered 12 states, and I share our many experiences along with the places we visited. Experience the good times, the bad times, the humorous times, and the many debacles. Ride along with us as we truly experience the law abiding biker lifestyle & meet bikers & great people from abroad. There are so many roads and places to experience when riding your motorcycle cross-country and that is the reason we live to ride. It truly frees our souls.
There were multiple purposes for this motorcycle trip. First, we met our beloved Patron Members of Law Abiding Biker™ Media in the Papillion, Nebraska area. They took us on a great day ride and had an awesome dinner event prepared for us. The hospitality we were shown was like none other & showcases what the law-abiding motorcycle community is truly about. Additionally, a group of guys from Tennessee met up with us in Nebraska and are interested in starting a chapter with the law-abiding motorcycle club we are involved with. We had a good time getting to know them better & some fun times transpired.
That is just a very broad overview and you'll have to watch the film for the rest! Enjoy!
Thanks for your support!
HELP SUPPORT US! JOIN THE BIKER REVOLUTION! #BikerRevolution #LawAbidingBiker
🛒SHOP IN THE LAW ABIDING BIKER STORE 🛒
😎BECOME A MEMBER AND GET BENEFITS 😎
📹GET PREMIUM MOTORCYCLE TUTORIAL VIDEOS 📹
🎙CHECK OUT THE WEEKLY PODCAST 🎙
Join the Free Email Club!
If you appreciate this free information make sure to join the thousands of law abiding bikers that have already joined the free Email Club! You will be notified of new useful motorcycle content and techniques as we put them out. Join the Community now!