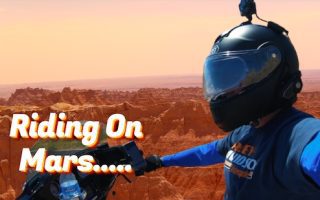 If you ever ride around Sturgis, South Dakota, you need to ride in this area. It's about 1 hour and 15 minutes west of the Sturgis city limits. It is very hot and temps are normally well over 100 degrees during the summer months. It's called the Badlands and it's south of Wall, South Dakota where you should make a stop first. Riding the Badlands is like riding your motorcycle on a different planet. (see video below)
**RIDING GEAR I WORE IN THIS VIDEO AND RECOMMEND**
If you appreciate all the free content we put out, please consider supporting us by using our affiliate links below. No additional cost to you and if you do click through and make a purchase we do get a small commission. Thanks in advance.
👉 HELMET
Revzilla: bit.ly/44d3cNH
J&P Cycles: bit.ly/46Jt6Ku
Amazon: https://amzn.to/44CQiID
👉 JACKET
Revzilla: bit.ly/3WsAvIa
J&P Cycles: bit.ly/3JOUInW
Amazon: bit.ly/3JOUInW
👉 RIDING JEANS (KEVLAR)
Revzilla: bit.ly/3O8bi4G
J&P Cycles: bit.ly/3ruSR0Xbit.ly/3ruSR0X
Amazon: N/A
👉 SHOES
Revzilla: bit.ly/3D7O1tp
J&P Cycles: N/A
Amazon: N/A
MY OTHER SHOES
Revzila: bit.ly/3NMqoez
J&P Cycles: bit.ly/3JTgabp
Amazon: https://amzn.to/3rhxr7s
👉 BASE LAYER SHIRT
Revzilla: bit.ly/3ShuMSZ AND bit.ly/3PxMOAU
J&P Cycles: N/A
Amazon: https://amzn.to/3z8Gqa8
👉 BASE LAYER PANTS
Revzilla: bit.ly/3TzNKFt AND bit.ly/3Pz6FQ6
J&P Cycles: N/A
Amazon: https://amzn.to/3psz3uK
HELP SUPPORT US! JOIN THE BIKER REVOLUTION! #BikerRevolution #LawAbidingBiker #Bikaholics
🛒SHOP IN THE LAW ABIDING BIKER STORE 🛒
😎BECOME A MEMBER AND GET BENEFITS 😎
📹GET PREMIUM MOTORCYCLE TUTORIAL VIDEOS 📹
🎬WATCH OUR MOTORCYCLE DOCUMENTARY FILMS HERE🎬
📱SHOP OUR AMAZON RECOMMENDED PRODUCTS 📱
🎙CHECK OUT THE WEEKLY PODCAST 🎙
Join the Free Email Club!
If you appreciate this free information make sure to join the thousands of law abiding bikers that have already joined the free Email Club! You will be notified of new useful motorcycle content and techniques as we put them out. Join the Community now!