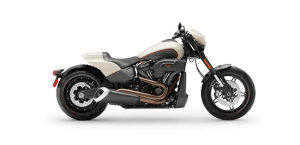 I am reviewing the new 2019 Harley-Davidson models. Harley-Davidson released its new 2019 line-up of motorcycles on August 21, 2018, in San Diego, CA. (see review video below).
Check out the new Softail FXDR 114 as it's a brand new innovative performance bike by Harley & I'm super excited about it. Some Harley touring bikes such as the Street Glide Special, Road Glide Special, and the Road King special now get the Milwaukee-Eight 114 CI motor and are blacked out instead of chrome.
On the new 2019 Harley-Davidson models, there is finally an upgrade to the Harley Boom Box Infotainment System for 2019 models. It's called the Boom Box GTS and it looks like a much better user interface than the previous version. The entire Boom Box GTS unit is touchscreen and it has Apple Car Play! Finally Harley, about time! The new Boom Box GTS does not and will not have Android Auto. You also must have your iPhone plugged in via lightning cable to utilize Apple Car Play. We'll have to see if this Harley Boom Box works any better than the older version on 2014-2018 models.
There are also 3 Harley CVO models that are sure to catch your attention.
Although I really support Harley-Davidson, I'm not afraid to give my opinion about how they are failing at connecting with their actual core customers. They really need to change the way they are marketing and get back on track with their real brand loyal customers.
GET OUR 2014-2018 BOOM BOX TUTORIAL VIDEOS HERE
HELP SUPPORT US! JOIN THE BIKER REVOLUTION! #BikerRevolution
🛒SHOP IN THE LAW ABIDING BIKER STORE 🛒
😎BECOME A MEMBER AND GET BENEFITS 😎
📹GET PREMIUM MOTORCYCLE TUTORIAL VIDEOS 📹
🎙CHECK OUT THE WEEKLY PODCAST 🎙
Join the Free Email Club!
If you appreciate this free information make sure to join the thousands of law abiding bikers that have already joined the free Email Club! You will be notified of new useful motorcycle content and techniques as we put them out. Join the Community now!