Free Video By Bikers for Bikers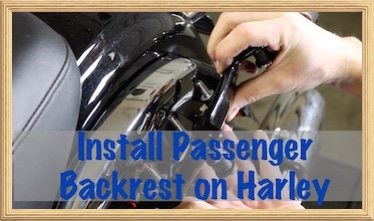 VIDEO-In this DIY video we show you how to easily install a detachable passenger backrest & a 4 point or 2 point docking hardware kit on a Harley Davidson.
We used a Harley Davidson Road King in this video, but the video will work for an array of different years and models of Harley Davidson's.
If you get the 4 point docking plates you will be able to put an additional luggage rack in addition to the detachable passenger backrest. With the 2 point docking plates you will only be able to add the detachable backrest.
We also have another video where we do the same project on a Harley Davidson touring model:
If you appreciate this video and others, please consider purchasing any  items through the below affiliate links:
Install Detachable Passenger Backrest & Docking Kit on Harley Road King

If you appreciate free information and techniques like this make sure to join the thousands of law abiding bikers that have already joined the free Law Abiding Biker Podcast & Media Email Club!! You will be notified of new useful motorcycle content and techniques as we put them out. Join the Community now!