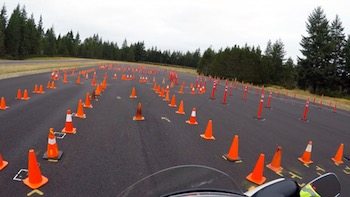 Video-I take you behind the scenes at the Washington State Patrol Academy track where Police Officers are attending Advanced Motorcycle School. Typically, a Police Motor Officer will attend a basic 2 week Police Motorcycle Training School. After that is under their belt they can apply to Advanced Police Motorcycle Officer School. In this advanced school, Police Officers ride at higher speeds, as where the basic school is mostly lower speed technical cone patterns. Advanced Police Motorcycle training adds high speeds in between technical cone patterns. There are portions of the course without any cones and it is simply learning to ride and corner at very high speeds.
GET A BIKER GRIPPER MOTORCYCLE CELL PHONE MOUNT HERE
BECOME A PATRON MEMBER HERE AND GET BENEFITS
SHOP IN THE OFFICIAL LAW ABIDING BIKER STORE HERE
GET OUR AWESOME FOR PURCHASE TUTORIAL VIDEOS
Join the Free Email Club!
If you appreciate this free information make sure to join the thousands of law abiding bikers that have already joined the free Email Club! You will be notified of new useful motorcycle content and techniques as we put them out. Join the Community now!