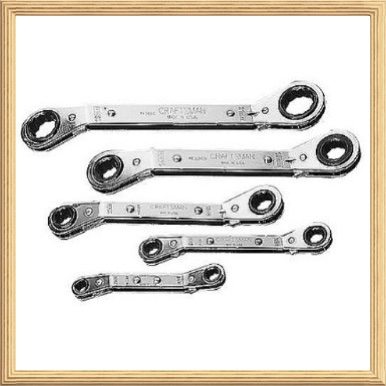 VIDEO-We often get into tight or hard to get at areas when working on our motorcycles and filming videos. Having the right tools for the job can not only speed things up, but save time and frustration. However, I did not have these ratcheting wrenches for many years and there are work arounds. You just need to be patient at times.
I finally broke down after completing our Free Motorcycle Header/Exhaust Install Video and our Free Harley Rear LED Lights Install Video. During both projects there were some awkward angles while wrenching. These Craftsman offset ratchet wrenches would have been nice. Instead of constantly taking your regular box end wrench off a bolt, putting it back on, making a quarter turn, and then taking back off again, you could just stay on the bolt and ratchet way.
The fact that these ratchet wrenches are also offset and angled a bit on each end makes it even nicer for getting into those awkward areas. I purchased both an American and Metric set. They each come in a kit of 5, but you get 10 different sizes as there is a box end ratchet on each end of the wrench.
Model # 43376 and they retail for $35.99
If you appreciated this video please consider using our Amazon Affiliate Link to make any purchases of tools such as this.
Craftsman 5 Piece Metric & American Offset Ratchet Wrench Set
Summary
Love these wrenches and they are great quality and a fair price point. They save me a ton of time getting into those awkward areas. I could not imagine not having these in my tool box now.