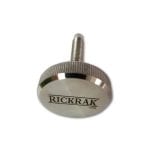 The Rickrak solution for Harley saddlebag safety looks great on your bike and offers superior heavy-duty Stainless Steel Safety. As recommended by the manufacturer and H-D, please make sure to check them regularly for proper tightness.
How securely attached are your Harley saddlebags? There are many true stories of saddlebags coming off while going down the road! 2016 and prior Harley models use a vulnerable 1/4 turn pin attachment system that had recalls. On 2017 and on models H-D tried to correct the issue with a ratcheting mechanism with a handle that is bulky and clumsy to use. The long handle on that mechanism catches clothing and items as you try to remove them from the saddlebag. They just take up room and get in the way, unlike the sleek Rickrak saddlebag safety bolts.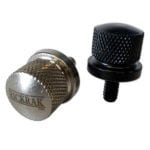 RickRak's Extended Seat Bolt for Harley-Davidson Motorcycles makes the seat bolt more accessible for models with trunks. Made from top-quality Stainless steel, the Extended Seat Bolt offers 1/4×20 threads and a knurled handle for an easy grip.
There is also a shorter Rickrak seat bolt for the models without a trunk. Get rid of that stock seat screw and move into something quality like these. It's much easier to get to and you don't need tools.
Join the Free Email Club!
If you appreciate this free information make sure to join the thousands of law abiding bikers that have already joined the free Email Club! You will be notified of new useful motorcycle content and techniques as we put them out. Join the Community now!