I've been utilizing the Rickrack strapless motorcycle luggage system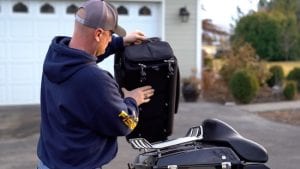 on my Harley-Davidson for a few years now and love it! I'll never go back to the days of securing straps and using bungee cords. With the Rickrak system, I can have my motorcycle luggage bag attached or detached to my Harley in less than 10 seconds without any straps! That is super important to me when on cross-country motorcycle trips when the time is very limited. Plus, I have no worries of straps, ropes, or bungee cords coming loose and damaging my paint. Or worse yet, my bag falling off on the roadway. (see my Rickrak overview video below)
The Rickrak strapless luggage system is lightweight, durable, the design is well thought out, and it's made by actual bikers. That's why we ch0ose to carry the Rickrack strapless motorcycle luggage system in the Official Law Abiding Biker Store years ago.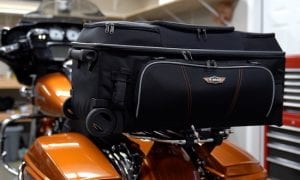 The Rickrack strapless motorcycle luggage system is a lightweight metal rack that can be attached to almost any larger sized touring bag. Once the rack is permanently mounted to your touring bag, the entire setup clamps down to stock round bar touring racks such as on a Harley Street Glide, Road Glide, Ultra, and other touring models. The details for exact fitment are listed in our store and in the video below.
At the time of purchase, you can choose to purchase a complete Rickrak kit, which includes the Rickrak system and a high quality touring luggage bag called the Top Dek II. When you order this complete rack and bag kit, it will come pre-assembled for you and ready to go! If you just purchase the Rickrak itself and have your own touring bag, you'll have to mount the bag to the Rickrak with the included hardware. It comes with everything you need for mounting.
Rickrack strapless motorcycle luggage system options: (Harley & Indian)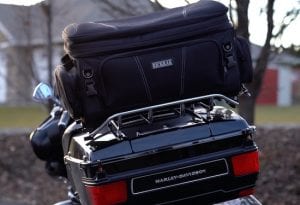 First, there is a Rickrak designed for the stock luggage rack on top of your Harley touring model trunk. This means you basically have another trunk on top of your existing trunk! And, in less than 10 seconds you can have the Rickrack off, so you don't have all that additional weight when opening your trunk lid. You can have it back on just as quick.
Second, there is the same Harley touring trunk top Rickrack for those that have switched from the stock Harley luggage rack to the sleeker Harley Airwing Rack.
Third, there is the Rickrak system for other Harley touring models without a trunk, such as a Street Glide, Road Glide, or Road King. You will need to have the flat King H-D Detachable Two-Up Luggage Rack for proper fitment.
Last, is the Rickrack strapless motorcycle luggage system for Indian touring models with a trunk and it works exactly the same.
Check out my Rickrak overview video below and if you have any further questions, contact us in the Law Abiding Biker Store!
Trust me when I say, "once you've used Rickrak you'll never go back".
Join the Free Email Club!
If you appreciate this free information make sure to join the thousands of law abiding bikers that have already joined the free Email Club! You will be notified of new useful motorcycle content and techniques as we put them out. Join the Community now!