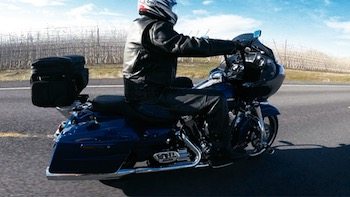 The Rickrak Quick Attach Luggage System for Harley & Indian is our first choice now when we travel on our Harley's out of town. What a relief to have no more straps or bungee cords! You can now travel in style with your Harley Street Glide, Road Glide, Road King, Softail, and Ultra equipped with the large Harley touring style round bar luggage racks! And you'll have a bag that actually looks good on your bike and has the room of a Tour-Pak.
No need to spend a ton of money on a Harley Tour-Pak anymore. Now, when you get to your hotel or destination after riding, you can quickly unclamp your luggage bag in less than 10 seconds. You could also pop off your luggage rack and cruise in style if you are staying local for a few days.
You can mount your own bag to the Rickrak quick attach strapless system or you can choose a quality Rickrak bag that is assured to work perfectly with the Rickrak system! There are multiple bags to choose from such as the Top Dek II, Dresser Roller Bag, & Pet Palace for safe animal transport.
If you're riding a full touring Harley, such as an Ultra, there is a Rickrak quick detach strapless system for that too! The system will easily clamp to the luggage rack on the top of your Tour-Pak, giving you twice the storage! In less than 10 seconds, you can unclamp your Rickrak luggage system, so you don't have all that weight on your trunk lid when opening and closing it! No other system on the market can do that.
In this video, we show you everything you need to know about the Rickrak system and we show you how to easily install it.
Check this video out for all the details!
Join the Free Email Club!
If you appreciate this free information make sure to join the thousands of law abiding bikers that have already joined the free Email Club! You will be notified of new useful motorcycle content and techniques as we put them out. Join the Community now!