Free Video By Bikers for Bikers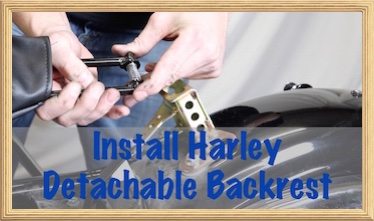 VIDEO-In this DIY video we show you how to easily install a detachable rider backrest hardware on a Harley Davidson motorcycle. In this video we used a Road King, but it is the same for most models. Save you money and let us show you how to do this, so you don't have to pay a mechanic. You can do it right in your garage on the kickstand with no specialty tools.
Having a detachable rider backrest on a Harley Davidson is very convenient for many bikers/motorcyclists. I often don't want the rider backrest on when going on short trips or around town. But for those long high mile days I can easily put the rider backrest on and head on down the road.
You can use your 2009 and up Harley Davidson rider backrest hardware on your 2014 & on Harley touring model! It fits and mounts exactly the same.
We also have another video where we do the same project on a Harley Davidson touring model:
If you appreciate this video and others, please consider purchasing any  items through the below affiliate links:
Install Detachable Rider Backrest Hardware on Harley Davidson

If you appreciate free information and techniques like this make sure to join the thousands of law abiding bikers that have already joined the free Law Abiding Biker Podcast & Media Email Club!! You will be notified of new useful motorcycle content and techniques as we put them out. Join the Community now!