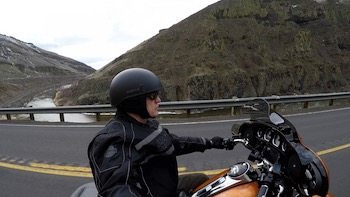 Video-Sena sent us a couple Cavalry Bluetooth Half Helmets for testing and review here at Law Abiding Biker Media. We put them to the ultimate test in a real life motorcycle riding environment. What does this helmet mean and does it work for the real world everyday biker out there? We answer this and many other questions you may be asking yourself in this review video.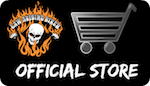 Note: If you appreciate our free videos and this information, please consider purchasing a Sena Cavalry Half Helmet directly through our store!
The Sena Cavalry Helmet is US DOT approved, is of great build quality, and fairly light weight. It has a Sena 10R headset Bluetooth system built right in and integrated nicely. The speakers are built right into the helmet and sound great for a helmet style headset. There are ear flaps that help direct the speaker sound into your ears. You may also want to check out my complete tutorial video on how to used the Sena Cavalry Bluetooth headset system.
This helmet allows you to pair your smartphone directly to your Cavalry helmet. Built into the upper front portion of the helmet is a noise canceling microphone. You can listen to your music wirelessly and make phone calls going down the freeway at 70+ mph. Yah-really, in a half helmet! You can also pair your Cavalry helmet with up to three other riders for group or single communications at a max distance of 1/2 mile was our findings.
Note: I was actually very impressed at how well the Sena Cavalry Half Helmet microphone and speakers performed at freeway speeds on a fairing motorcycle! I didn't even have to turn the volume all the way up at 70 mph. The technology is amazing and Sena did it right.
The Cavalry helmet does pair with the Sena Freewire Bluetooth transmitter/receiver. When the two are paired, this allows you to have wireless integration with your Harley-Davidson Boom!™ Box Infotainment System. You can give voice commands directly to the Boom Box system and hear anything coming out of the Boom Box such as music and GPS voice directions wirelessly inside your Cavalry helmet.
Note: My findings are that up to about 40 mph on a fairing bike, you can give voice commands via the Cavalry Helmet if paired directly with your smartphone or via the Freewire to the Boom Box fairly consistently. At above 40 mph, the software in the smartphones and Boom Box just simply can't understand or recognize what you are saying. That's due to the extra wind noise over your voice through the helmet's microphone.
This is only for voice commands (40 mph). Having actual phone conversation, communicating to another rider with a Cavalry Helmet, or listening to music is just fine at 70+ mph. Instead of telling your phone to "dial" a particular name/number in your contact list via voice command, you could simply just reach up and hit the contact on your smartphone to dial. That is if your smartphone is sitting securely in your Biker Gripper Cell Phone Motorcycle Mount!
See more in my Sena Freewire videos here:
The Calvary helmet is definitely geared more towards a touring rider with a fairing or windshield, which helps cut down wind noise, so you can hear the music, make phone calls, use rider-to-rider communications, and give voice commands. The capabilities of the Sena Cavalry helmet are greatly reduced if riding a motorcycle without a fairing due to the added wind noise. If just riding around town or slow country roads, you may be able to use the Cavalry helmet on a motorcycle without wind protection.
The Sena 10R headset that is built into the Cavalry charges fully in about three hours and has about 10 hours talk time. There is also an FM radio built in with station presets. Of course, you can pair your Cavalry with Sena's beautiful smartphone app to easily manage settings. Using Sena's desktop app for MAC or Windows, you can plug your helmet in and update the software, which should be done immediately.
See my Sena Cavalry Bluetooth Half Helmet Tutorial video where I show you how to operate and pair it with other devices:
Overall, I love this half helmet and I don't think anyone purchasing it would be disappointed. The only addition I hope Sena makes on the next version is to add a built-in drop-down tinted sun visor like so many other half helmets out there already have.
Join the Free Email Club!
If you appreciate this free information make sure to join the thousands of law abiding bikers that have already joined the free Email Club! You will be notified of new useful motorcycle content and techniques as we put them out. Join the Community now!
Sena Cavalry Bluetooth Half Helmet
Summary
I absolutely love this helmet. It is built well and looks good. I love that I can ride down the freeway on a fairing bike at 70+ MPH and can listen to my music and hear it just fine. I can literally have a phone conversation at the same speeds and the party on the other end can hear me fine. The noise canceling microphone works great. The Cavalry pairs fine with a Sena Freewire for wireless operation of my Harley-Davidson Boom Box System. I can pair my Cavalry with three other helmets for group conversations.
The only thing I wish Sena would add to this helmet is to add a built-in drop-down tinted sun visor.