The Sena Freewire, paired with a compatible Sena Bluetooth Headset, can do everything a wired headset can do! 100% Full Harley Boom!™ Box Infotainment System Integration!!
Many of you know by now if you follow my articles, my YouTube Channel, and our weekly Podcast that there is still no wireless Bluetooth headset that pairs "directly" with the Harley-Davidson Boom!™ Box Infotainment System. I said "directly". That means that you can't turn on the "pairing" mode on your Bluetooth motorcycle headset and then do the same with the Boom Box and get them to pair. It simply won't work. The current Boom Box head units are the same today as they were in 2014 when they came out on project Rushmore Harley's. They simply weren't designed with a Bluetooth "headset profile", but only a "handsfree profile" to pair to things like your smartphone. Yes, that is a failure on the part of Harman Kardon, the maker of the Boom Box system for Harley.
Let me teach you all the tips, tricks, functions, hidden menus and more and learn the Boom Box with ease!
Sena realized the frustration of bikers and worked on a solution to fix the problem. And so……the Sena Freewire was born! It doesn't allow you to pair your wireless headset "directly" to the Boom Box, but instead is a module for getting your Sena brand wireless headset to work & function with the Boom Box. Yes, it is a workaround, but the best that I know of! We liked the Sena Freewire so much that we actually brought it to the Official Law Abiding Biker Store!
It helps support us so we can make more videos, podcasts & put out information like this!
Note: The infotainment system on the Honda Gold Wings face the same issue and there is a Freewire version for Goldwing riders too!
Sena Freewire Bluetooth Transmitter for Harley-Davidson-Review & Tutorial
Does Sena Freewire Work With Harley Boom Box Voice Commands, CB, Intercom, & Phone Calls?
Before the Sena Freewire existed, many just used a wired headset and plugged directly into the 7-Pin DIN communications port on their Harley. A wired headset is still a valid option and we sell them right in our store for half helmet, no helmet, full face, 3/4 helmet, and modular helmets. They work great and you get full functionality. Check out our #1 recommended wired headsets for Harley.
For those that want to "cut the cord" and go wireless
In a nutshell, the Sena Freewire gets ride of that pesky wire running from your helmet/head to the communications port. Aaaaah yes, freedom! Jump on and off your bike without plugging/unplugging!
How it works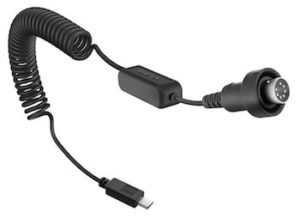 The Sena Freewire plugs directly into the 7-Pin DIN port on your Harley and into the Freewire via a micro USB connection. Then you pair your Sena brand headset with the Freewire. The Boom Box transmits all audio going out of the 7-Pin into the Freewire, which then sends it to the your Sena wireless headset via Bluetooth 4.1 technology! And it works great!
Add a Smartphone
Now you can add your Smarthpone to the mix to stream music via Bluetooth. Make sure your phone is securely mounted to your Harley with one of our Biker Gripper Motorcycle Cell Phone Mounts. They are the sexiest, sleekest, strongest mounts on the market! Just pair your smartphone directly to your Boom Box and play your music! The music now streams to your Boom Box from your phone wirelessly. The music then goes out of the Boom Box and then out the 7-Pin direclty into your Freewire, which then sends it to your Sena headset wirelessly via Bluetooth.
Note: You'll have to change your settings within the Boom Box to send audio out the 7-Pin port instead of to your speakers. See these procedures and more in our Harley Boom Box Tutorial Videos!
Further, you can get a wireless Sena headset & an additional Freewire for your passenger to plug into the 7-Pin. Now you can use the CB and built Boom Box internal communications system. You can finally talk back and forth with your passenger wirelessly and listen to the same music.
Boom Box/Freewire/Voice Commands
Yes, the Sena Freewire offers 100% full integration with the Harley-Davidson Boom!™ Box Infotainment System & I've tested it extensively for you! You can activate voice commands using the rocker switch on your left Harley control cluster. With the Freewire and your Sena compatible headset, you can give direct voice commands to the Boom Box wirelessly! You can tell the Boom Box to "play" a particular song or album or "tune" to a particular radio station. Or you can say "destination" and give a physical address and the Boom Box will take you there via the integrated GPS system! Yes, the Sena Freewire is the king and offers this functionality with the Boom Box!
You can also use the Harley Boom Box internal intercom system with a passenger if they are also equipped with a Sena compatible headset and a Sena Freewire. You can chat wirelessly now via the intercom! And you can use the CB radio wirelessly with the Freewire too.
I absolutely loved using the Freewire and it is a solid built unit, which you can always expect from Sena. I'm able to listen to all my music, the built in Boom Box GPS turn by turn directions, and the radio. I did not have a bike with a passenger communications port to test the on board intercom or CB.
Bom Box/Freewire/Phone Calls
Yes, with your smartphone paired wirelessly with your Boom Box, you can make and accept phone calls going into your Boom Box with your Sena Freewire and Sena compatible headset wirelessly! They sound great! I tested this and it works perfectly.
Important Note:
Make sure you unpair your smartphone with your Sena Headset as it will cause phone call Bluetooth conflicts. Only pair your Sena headset with the Freewire, so they are not fighting over the incoming call so to speak.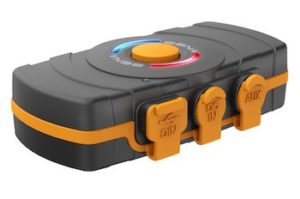 Aux Input via 3.5mm Jack
The Freewire also comes with an additional standard 3.5mm Aux input for hooking up your external GPS unit, a non-Bluetooth MP3 player, or a radar detector. That external device can then be sent wirelessly straight to your Sena headset! I found this to be a very nice feature!
Freewire Compatibility
The FreeWire only supports Sena Bluetooth headsets of 10 Series and above such as 20S, 10S, 10C, 10R, and 10U. We sell several models in the Law Abiding Biker Store.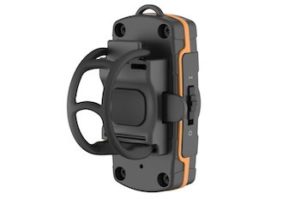 Battery/Mounting/Charging
The FreeWire comes with two different mounting accessories, a handlebar mounting kit as well as a mounting cradle for on the bike itself, to conveniently secure the device during your ride. The unit is rechargeable and will esily last all day long. For those longer rides multiple day rides you can easily charge your FreeWire while using it with the included cigarette charger or Sena Powerbank.
Can I pair another brand wireless headset with the Freewire?
Anwer: No, it only pairs with a compatible Sena headset such as the 20S, 10S, 10C, 10R, and 10U.
Features
Bluetooth 4.1
7 hour talk time
2.5 hour charge time
Lithium polymer battery
Advanced Audio Distribution Profile (A2DP)
Additional
Listen to your bike through the 20S and take advantage of even more incredible audio capabilities from Sena
Thanks to the FreeWire, you can wirelessly connect to your Harley Davidson infotainment system while also being able to utilize the various capabilities of the Sena 20S Bluetooth headset. Enjoy a 2 km intercom between up to 8 riders, HD Audio, Voice Command, Group Intercom, Advanced Noise Control, the Sena Smartphone App and so much more.
Whats comes in the Freewire Kit?
FreeWire Bluetooth CB and Audio Adapter
Handlebar mounting kit
Mounting cradle
Micro USB to multi-pin DIN cable
3.5mm stereo audio cable
Micro USB power & data cable
Cigarette charger
Software Update/Resources
Make certain your Freewire and Sena compatible headset are running the most current version of software. You'll likely have to do this right out of the box. I show you how in the video and it is very easy!
Join the Free Email Club!
If you appreciate this free information make sure to join the thousands of law abiding bikers that have already joined the free Email Club! You will be notified of new useful motorcycle content and techniques as we put them out. Join the Community now!
Overall
Best Bluetooth Transmitter & More!
Summary
The Sena Freewire is a solid piece of hardware and built well. It is fairly easy to setup and get going. It easily pairs via Bluetooth to my Sena 20s wireless headset and allows me to listen to my music from my iPhone going into and then out of my Boom Box.
It streams whatever audio is coming out of my Boom Box such as turn by turn navigation. It has the capability to communicate with a passenger via the Harley Boom Box internal communication system along with use of the CB radio. You can give voice commands directly to the Boom Box such as "play" a particular song/album or say "destination" and give an address for GPS guidance!
You can also answer/receive crystal clear phone calls. The battery easily lasts all day on a charge. The unit is fairly small and comes with several mounting options. All the cords and accessories are included with the Freewire.
The Sena Freewire ins 100% fully functional and integrated with the Harley Boom Box Infotainment System and can do everything a wired headset can do!
Best of all is that you'll have no more cord coming from your helmet to the communications port on your Harley! Cut the cord! No plugging/unplugging when getting on or off my bike.
Go get one already here ==> https://shop.lawabidingbiker.com/collections/sena-headsets/products/sena-freewire-bluetooth-transmitter-for-harley-davidson-motorcycles