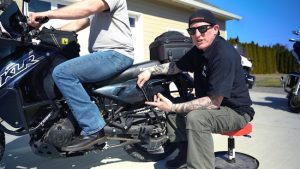 Setting your motorcycle suspension sag by adjusting preload on your rear shocks is very important. It affects the geometry of your motorcycle and how it handles overall. This doesn't need to be a complicated process as many make it seem in other online videos and articles. We're here to break it down in simple terms for the everyday motorcycle enthusiast. (see video below)
Setting motorcycle suspension sag just means that you are adjusting how much your bike lowers (sags) and rides in the rear when a rider, passenger, luggage or a combination is on the bike. The bike should only sag down so far and within a pre-determined range. Whether you're riding street, adventure, dual-sport, or dirt, setting motorcycle suspension sag is a universal process.

Most stock Harley-Davidson rear shocks have a pre-load adjuster knob and the owner's manual gives you load weight ratings and where you should set the preload. The air shock system on the Harley works the same by adding or removing air. If you install aftermarket shocks of any kind then you'll need to learn how to properly set motorcycle suspension sag.
Get a Tusk Slider Sag Scale in our Store Here!
Join the Free Email Club!
If you appreciate this free information make sure to join the thousands of law abiding bikers that have already joined the free Email Club! You will be notified of new useful motorcycle content and techniques as we put them out. Join the Community now!