Podcast: Play in new window | Download | Embed
Subscribe: Apple Podcasts | RSS
PODCAST-That's right, we're back with the special Son's of Anarchy Podcast episodes in between our non-stop regular weekly podcast episodes. Here, we have a special Son's of Anarchy Season 7 Pre-Season show for you. Each podcast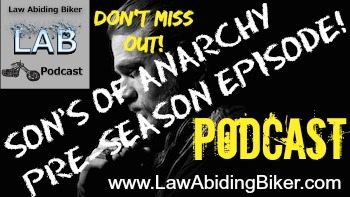 host has 5 predictions for season 7 and we reveal them to you. What are your predictions for Sons of Anarchy Season 7? Tell us by commenting below! We have a ton of other stuff to talk about too.
Want to call us and get your topic on the show or leave us feedback?
Sons of Anarchy Season 6:
Don't forget that we aired Law Abiding Biker Podcast SOA episodes all last year during season 6. We aired one podcast episode per two TV episodes. You can get those episodes on any major podcast platform. Get caught up and reminded of what took place on season 6! Here are the direct links to the show notes and episodes:
We want to start season 7 of SOA off right with this special pre-season podcast episode. We have a ton of content for you and are excited. Season 7 episode 1 of Son's of Anarchy will air on Tuesday September 9, 2014 on FX Networks.
Items of interest:
The premiere episode picks up ten days after the death of Tara, the beloved wife of the SAMCRO president. However, a bewildered Jax will be seen behind bars for violating a parole. Jax, who is in search of his wife's murderer, will go on a killing spree, eliminating everyone who comes in his way of vengeance. But how will he react when he learns that it's his own flesh and blood, his mother, who killed his wife?
Season 7 Trailers:


Interview with Director Paris Barclay at Comic-Con 2014

Interesting items in the main trailer:
The minute-long clip shows an incarcerated Jax (Charlie Hunnam) brutally beating some unseen subject, Jemma (Katey Sagal) scheming, a multi-man Mexican standoff, gunfights, car chases, the Mayans, the Chinese — all set to U2's "Bullet The Blue Sky."
Jax says, "I already lost the woman I love. I'm not going to loose my club." He says this while sitting at the meeting table with the club.
Later on, Jax's son Abel is seen asking Gemma (Katey Segal), Jax's mom, if his daddy does bad things. She says that Jax is a good man, though it remains to be seen if she'll think the same way once Jax gets wind of the fact that she's the one who killed his beloved Tara.
The final seconds of the trailer sees Jax shirtless and not holding back as he kills someone in close range.
Your host's season predictions (Ryan, Lurch, Chewy):
Lurch:
Jax gets the club back into guns and chaos ensues
Juice dies at the hands of Jax
Jax kills Gemma w/ a suppressed .45 caliber  with the Grim Reaper on the handles then leaves the club and his cut behind
Wendy and Jax reunite
Tig and Venus (transvestite) hook up and live happily ever after
Chewy:
Unknown homeless lady is Jax's guardian angel (revealed)
Wayne Uncer is killed
Gemma and Nero die at the hands of Jax
Jax gets out of club and leaves with Wendy & the [Jax's] boys
A scene flashes years forward to Abel (Jax's son) at the head of the club (SOA) table
Ryan:
Jax runs crazy and kills at the beginning of the season trying to avenge his wife's (Tara's) death. Realizes in the end the club is not for him or his boys and leaves the club and cut behind for good
Jax does not kill Gemma. Instead he dis-owns her and will not let her see his boys, which punishes her much worse. Eventually, Gemma commits suicide, as she has nothing left. This way Jax doesn't have to personally kill her and it hurts her worse than just killing her outright.
Juice gets killed for certain and these are some of the reasons:

He shot Sheriff Eli

He helped Gemma cover up the death of Tara

He spilled Jax's secrets to none other than Nero

The infamous "homeless" lady's true identity and character will be revealed
Tig will be killed
Need a motorcycle cell phone or GPS mounting solution Bikaholics?

That's right, Law Abiding Biker Media put our logo on these mounts & we personally use them on our motorcycles!

The sexiest, lightest, and strongest mounts available period.
Good prices and fast shipping from our store?
Check out our COMPLETE REVIEW
Want to support us Bikaholics? Need some awesome tech gear?
Check out all the deals at B&H Photo Video
Photography, Video, Computers, Audio, TV's & more!
Most the time they have the best prices then Amazon.
Fast shipping!
Where I buy all my tech equipment for Law Abiding Biker Podcast & Media!
No additional cost to you, but we get a small commission for each sale.
Keep the rubber side down and the shiny side up!