Podcast: Play in new window | Download | Embed
Subscribe: Apple Podcasts | RSS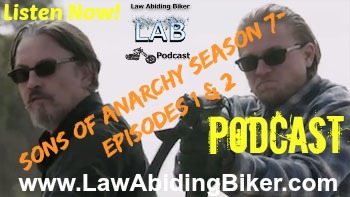 PODCAST-We are covering Sons of Anarchy television episodes 1 & 2 of season 7 on this Law Abiding Biker Podcast episode and it is absolutely jam packed with information and insight, so take a listen now! Check out the Season 7 Pre-Season episode we did!
Want to call us and get your topic on the show or leave us feedback?
Here are some highlights of what we talk about:
Jax apparently does not have a vision anymore and only sees what is in front of him. He is meeting with many leaders of the different criminal organizations. In the background Jax is manipulating everyone all in an apparent attempt to gain Henry Lin's, the leader of the "Lin Triad," false trust. Jax wants to later expose this fact to Lin and kill him and his family. This is in response to Gemma lying to Jax and telling all that the Triads are responsible for Tara's death. Jax kills a Triad in episode 1 that Gemma told him murdered Tara.
Nero is acting as a politician on both episodes and trying to bring everyone together to avoid a bloody street war. Nero sits down with Charles Berosky, Mayan's MC President Alvarez, the Stockton Mayan's MC President, Jax, and Henry Lin all at different times. Irish leader Connor is led to try and make peace with Henry Lin. Jax is meeting with leader August Marks on the side.
Jax  and crew spend time with the Grim Bastards MC President and club members trying to help locate the driver of a blue Impala that ran down some of their members last season (season 6). This takes a weird twist when they locate a blue Impala and break into an apartment.
Jax and the crew end up visiting the home of two guys that helped him and the SOA Indian Hill's chapter raid a Triad operation. These two individual were apparently muscle for the Indian Hills chapter per President Jury. Jax and the boys kill both of these individuals and make it look like a drug deal gone bad, using a confiscated brick of heroin they took from the Triad raid. When the Indian Hills President finds the men dead he had a reaction that maybe they were much closer to him than he lead on. He also locates a staged shotgun that he knows Jax and crew used at the Triad raid.
The new female Sheriff "Jarry" arrives in charing and hires Unser as a "consultant". Unser is provided with the entire Tara Knowles murder investigation files. Of course this is after Unser is bound, gagged, and held at gunpoint all night by Juice, who is on the run for betraying Jax and the club last season. Juice ends up letting Unser go free. Gemma learns what Juice did to Unser and later finds the murder investigation files in Unser's trailer.
Gemma is of course manipulating and trying to protect her secret that she killed Tara. She is trying to find out as much information as she can. She gives juice a cell phone "burner," $4300 cash, the keys to her father's house, and tells him to take Wendy's car. She wants him out of town, as he is causing too many issues.
Wendy leaves the drug treatment clinic after only 9 days of 90 days. She finds Juice staying in her home, because Gemma has let him in. This is where he is hiding from the club.
You absolutely must listen to this podcast episode if you want to be up to speed on things.
Sons of Anarchy Season 6:
Don't forget that we aired Law Abiding Biker Podcast SOA episodes all last year during season 6. We aired one podcast episode per two TV episodes. You can get those episodes on any major podcast platform. Get caught up and reminded of what took place on season 6! Here are the direct links to the show notes and episodes:
Sons of Anarchy Season 7: