Podcast: Play in new window | Download | Embed
Subscribe: Apple Podcasts | RSS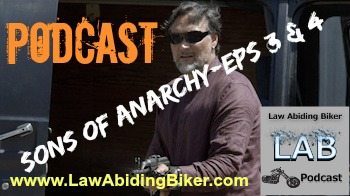 PODCAST-In this episode of the Law Abiding Biker Podcast we cover Sons of Anarchy Season 7; Episodes 3 & 4. Of course we have jam packed this episode with the latest and greatest information to get everyone up to speed and we even
give some ongoing predictions. Sons of Anarchy episode 3 "Playing with Monsters" aired on 09/24/13. Episode 4 aired on 09/30/14.
We start the episode off with a voicemail from loyal listener Larry Baxter of Homer, Alaska reference some of his predictions and we thank him for becoming involved.
So, Juice and Unser are working together a bit and exchanging favors. Of course Unser has agreed to protect and help Juice get out of town and even set a surprise meet up with Chibs. Juice in turn is supposed to provide Unser information about the club and Tara's murder.
The Triad's are still not happy with the fact that their gun shipment got taken down and they lost some heroin. They do not seem completely satisfied that the two men that know Jury, the President of Indian Hill's Chapter of SOA, did it and are now dead. They are asking many questions of Jax and looking into things. The biggest surpass to Jax and crew is that the Triad's only found one many dead, as apparently Jury moved the other.
August Marks and Jax meet and have a lengthy discussion about trusting each other. Marks ends up finding out about the gun and heroin take down of the Chinese and suspects Jax and crew did it. This heated conversation ends up with August saying that he would not hesitate to kill Jax or any of his crew if he had to. This does not sit will with Jax at all.
Jax and crew stir a bunch of things up with the one niners and "Chester's Crew", who are a faction trying to break off from Tyler, who is in charge of the "purple" right now. Jax and crew all but tell Tyler they took down the Chinese. Jax give shim some of the heroin they took off the Chinese and they make a plan to kill Chester and anyone else that was thinking about splitting off. Jax makes this look like this is all a big plan to get at August Marks.
Need a motorcycle cell phone or GPS mounting solution Bikaholics?

That's right, Law Abiding Biker Media put our logo on these mounts & we personally use them on our motorcycles!

The sexiest, lightest, and strongest mounts available period.
Good prices and fast shipping from our store?
Check out our COMPLETE REVIEW
Berosky is dirty as usual and caught up with this entire plan. When Chester and crew meet with Jax they head over to one of Berosky's warehouses where the Jax has stored the Chinese guns. Chester and his crew are then slated by Jax and crew. Berosky gets a few of his dirty cop friends to help clean up the mess.
Bobby Elvis calls Jury to ask if he knows anything about the missing guy pretending that he does not know he's dead. Bobby is trying to get intel on who this guy is in case he actually did not die and got away. Jury seems to know exactly what is going in and is clothing the dead man's dog tag and the shotgun that was used to kill him. Jury knows this shotgun belongs to SAMCRO.
Tyler wants Jax and his crew to try and track down the wife of the dead pastor (they killed of course). August Marks is trying to close a huge housing deal and needs his signature. They learn that the estranged wife of the dead pastor has power of attorney and can sign instead. The mission for Jax's crew to locate her begins of course. They certainly don't want Marks digging around for the dead "missing" pastor and find out the truth.
They dig up the body of the dead pastor and retrieve his cell phone. That leads them to some sex videos with none other than Venus in them. They track down Venus, who leads them to a lake house. They break in and Tiggy is shot as an intruder, but he is not killed. The estranged wife and her son try to get away in a car, but Rat gives chase and runs them into a lake. Jax and Chibs dive in and save the estranged wife. They all end up going back into the lake house and talk things out. The wife does not like her husband or August Marks, but agrees she will sign the housing deal papers.
Jax and crew meet with some of Tully's guys in the woods and two Deputies tail them. Tully's guys spot the police and shoot both of them. Jax and crew did not shoot the police and Jax is pissed, as this will possibly bring heat on Charming and the club. The male deputy dies, but the female deputy is still alive and on life support in the hospital.
Sheriff Jarry shows up at the makeshift clubhouse to talk with Jax and Chibs. During their conversation a car shows up and a male Chinese guy jumps out to throw a grenade through the glass window of the clubhouse. Chibs grabs Jarry to protect her and everybody hits the deck. The club house is blown up and demolished, but nobody is injured or dead.

Want to support us Bikaholics? Need some awesome tech gear?
Check out all the deals at B&H Photo Video
Photography, Video, Computers, Audio, TV's & more!
Most the time they have the best prices then Amazon.
Fast shipping!
Where I buy all my tech equipment for Law Abiding Biker Podcast & Media!
No additional cost to you, but we get a small commission for each sale.
Chibs drives Sheriff Jarry home afterwards in her patrol car and they hold hands. Nero shows up at the blown up clubhouse and gets a call on his cell phone. On the other end is a Chinese Triad leader who is at Diosa and says to Nero, "Mr. Lynn appreciates all your efforts in getting everyone together." "What happens at Diosa will impact you, but it's meant for the Sons of Anarchy" and hangs up.
Jax and crew rush to Diosa, but it is tool late and all the girls have been shot to death. At the same time Gemma is with Juice and Wendy is also there. There is an all points bulletin (APB) officially out on Juice now and Gemma is going to personally get him out of town.
To get all the finer details, insights, and predictions you really need to listen in on this Law Abiding Biker® Podcast episode.
SOA Monologue: (Long Motorcycle/Biker Runs)

Something happens at about 32 miles an hour. Thunder headers drown out all sound. Engine vibration travels at a heart's rate. Field of vision funnels into the immediate. And suddenly, you're not on the road, you're in it. Part of it. Traffic, scenery, cops…just cardboard cutouts blown over as you pass. Sometimes I forget the rush of that. That's why I love these long runs.
All your problems, all the noise — gone. Nothing else to worry about except what's right in front of you. Maybe that's the lesson for me today. To hold onto these simple moments. Appreciate them a little more. There's not many of them left. I don't ever want that for you.
Finding things that make you happy shouldn't be so hard. I know you'll face pain, suffering, hard choices. But you can't let the weight of it choke the joy out of your life. No matter what, you have to find the things that you love. Run to them. There's an old saying, "That which doesn't kill you makes you stronger."
I don't believe that. I think things that try to kill you make you angry and sad. Strength comes from the good things. Your family, your friends, the satisfaction of hard work. Those are the things that will keep you whole. Those are the things you hold onto when you're broken.
Sons of Anarchy Season 6 Episodes:
Don't forget that we aired Law Abiding Biker Podcast SOA episodes all last year during season 6. We aired one podcast episode per two TV episodes. You can get those episodes on any major podcast platform. Get caught up and reminded of what took place on season 6! Here are the direct links to the show notes and episodes:
Sons of Anarchy Season 7 Episodes: