Podcast: Play in new window | Download | Embed
Subscribe: Apple Podcasts | RSS
PODCAST-In this episode we cover Sons of Anarchy Episode 9, which aired on November 4, 2014 and was titled "What a piece of work is man". I cover the high points in this blog, but you really need to listen in on this episode to understand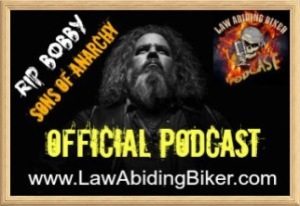 everything and get into the know on things.
Juice is in jail trying to get at Lyn and kill him to get back into good graces with the club. However, Wayne Unser and Sheriff Jarry learn that Chris Dunn, the murdered Chinese guy, was in Las Vegas on the night of the murder of Tara Knowles. Dunn was actually arrested for drunk and disorderly. The spin is that both Gemma and Juice have identified him as leaving the murder scene that night. We later see Juice being placed in solitary, as Jarry told DA Patterson to take Juice out of Administrative Segregation and pull the deal on the table.
Of course we all know Bobby was shot in the head by August Marks. Jax and crew all met with August and his crew at an oil drilling site. The trade was to be that Jax was to give him the cell phone footage of a dead pastor having sex with young boys, the pastor's body, and the pastor's son. In exchange Bobby was to be returned to Jax, now missing his left fingers and eye.
Everyone left the drilling site except Jax, the pastor's son, Marks, and Bobby. Marks looked at the body and identified it as the pastor based on the face and a tattoo on the left arm. The body is not that of the pastor, but just the head and left arm. Jax and crew beheaded the pastor and cut off his left arm only to then sew it onto another corpse. So the actual body of the pastor is still buried on one of Marks construction sites.
Jax also shows Marks some footage of the pastor's sex scenes, but we know from earlier that Happy had the video altered, so nobody would be able to be identified. Marks will likely learn this in the future and the video will be worthless along with the body. In the back of Bobby's pants is a pistol that was put their by his lead security guy, Moses Cartwright. Marks pulls the gun while Bobby, who is gagged, tries to warn Jax. Marks shoots Bobby in the head to prove a point to both Jax and the pastor's son that he does not approve of betrayal and deals with it swiftly.
Need a motorcycle cell phone or GPS mounting solution Bikaholics?

That's right, Law Abiding Biker Media put our logo on these mounts & we personally use them on our motorcycles!

The sexiest, lightest, and strongest mounts available period.
Good prices and fast shipping from our store?
Check out our COMPLETE REVIEW
Gemma and Sheriff Jarry are not getting along well and Gemma calls her out for being on the take and on "Chib's dick" as she put it. The two go to blows at one point and we're not sure at this point how Gemma knew this information.
Jax seems dedicated to protecting Latricia and her son and we don't know why this allegiance runs so deep for him. Maybe it is the last good thing that can come out of a completely out of control situation.
After Jax tells Gemma that Bobby is dead and it is because of the battle with the Chinese, she leaves the room. She realizes that Bobby's death is ultimately her fault as she has falsely accused Chris Dunn for the murder of Tara. She cries over Bobby and tells him she's sorry all while young Abel is listening in. Abel has heard too much already at his young age and that will come into play before the end of the final episode. He may very well end up at the head of the SAMCRO table, Jax's inner fear.
By the end of this episode Marks is being led out of a restaurant in handcuffs and Moses Cartwright is watching. Jax and Chibs are close by and make it known that they are there and responsible for his arrest. Jax had Latricia's affidavit against Marks sent to DA Patterson via Sheriff Jarry. The police are anonymously led to the actual body of the pastor on Marks' construction site. So, for now Marks is going to be in jail while Jax looks for a more permanent solution.
Chibs delivers the affidavit and a map of where the body is to Sheriff Jarry. This ends up in a scene where Jarry want's Chibs to prove he loves her by having sex with her on the hood of her patrol car while Quinn watches. I must say that this was likely not predicted by anyone, but it happened.
Make sure and tune into this podcast episode to get all the details along with what is going to likely take place in episode 10! We have some great insight and have really broken things down for you. There are some things you are probably not even aware of that will bring clarity.
Keep the rubber side down and the shiny side up.

Patreon
Sons of Anarchy Season 6 Episodes:
Don't forget that we aired Law Abiding Biker Podcast SOA episodes all last year during season 6. We aired one podcast episode per two TV episodes. You can get those episodes on any major podcast platform. Get caught up and reminded of what took place on season 6! Here are the direct links to the show notes and episodes:
Sons of Anarchy Season 7 Episodes: