Podcast: Play in new window | Download | Embed
Subscribe: Apple Podcasts | RSS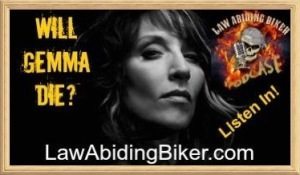 PODCAST-We were live and in this episode we are covering Sons of Anarchy Season 7 Episode 11. If you ever want to listen live head over to: https://www.lawabidingbiker.com/live. It is a lot of fun and there is live chat, so you can get involved. You get a behind the scenes look.
The biggest development of course is the fact that young Abel finally ratted out Gemma for killing Tara Knowles. Wendy, Jax's ex-wife and blood mother of Abel, and Jax are getting very close and she has moved in. Wendy spills her guts to Jax and rats out Gemma for helping harbor Juice when he was wanted by the club. And tells him that Unser was involved.
Armed with all this information, Jax goes directly to Unser and calls him out. In turn Unser told Jax that Chris Dunn, whom both Gemma and Juice blame for the murder of Tara, was in a Las Vegas jail the night of the murder. Remember, Dunn was murdered by Jax, as he believed he was responsible for the murder based on Gemma's false information. Jax wants a meeting in jail with Juice and for Unser to help set it up.

Need a motorcycle cell phone or GPS mounting solutionBikaholics?

That's right, the Law Abiding Biker Podcast approves of these mounts & we personally use them on our motorcycles!

Great looking mounts, good prices, and fast shipping?
Check out our COMPLETE REVIEW
No additional cost to your, but we get a small commission for each sale
Jax heads to Stockton and meets with Juice in jail. Juice finally spills his guts and tells Jax the truth and everything that went down the night of Tara's murder. Jax tells him he appreciates him telling the truth and that his death will be quick in return. Juice calls Gemma immediately after to tell her what he did.
Jax had promised Unser that he would record the conversation with Juice at the jail, but Jax had Tully get him a room with no cameras. Per Unser, the terms of his getting the meet with Juice was that if Jax crossed him he would never help him or his family again.
Unser and Jax later talk at Teller Motors and Unser is pissed off that Jax double crossed him once again. Jax ends up punching Unser in the presence of Sheriff Jarry. Unser is getting very close to solving the murder and wants Jax off the streets before he kills anyone else. He and Sheriff Jarry put out an All Points Bulletin on Jax for assault.
Tully set up the stage for Lynn's murder and Juice meets Lynn tied up in a boiler room inside the jail. Juice had been provided a cell phone with a video camera to record Lynn's confession about whom told him about the location of the guns that SAMCRO had jacked from his crew earlier in the season. Juice promised not to murder him if he just told the truth about that matter and not to testify against SAMCRO to get his jail sentence lightened.

Patreon
Lynn's information was that it was not Jury of the SOA Indian Hills Chapter as Jax had suspected. Remember that Jax shot President Jury in the presence of his Vice President after they got into an altercation about this very issue at an oil drill site. Lynn stated that is was Charlie Berosky, the dirty ex-cop that controls the ports in Stockton, that ratted. We here at the Law Abiding Biker Podcast have predicted this for several episodes now! Juice shanks Lynn in the throat several times and kills him.
After receiving the phone call from Juice about spilling his guts to Jax, Gemma packs her immediate belongings and tries to escape with SAMCRO hot on her tail. Chucky ends up helping Gemma make a clean escape when Happy and Rat show up and ask where she is.
Gemma later has Nero meet her outside a church, which is across the street form the home she grew up in. Gemma blabbers about her childhood and growing up. Nero knows something is amiss and then gets a call from Jax. Nero demands to know what is going on and Jax tells him that Gemma is the murderer of his wife Tara. Nero hangs up and tells Gemma that she needs to leave.
Jax and crew go to a bakery that Berosky frequents, but he is not there. Unknown to Jax, there is the APB out on him. Two officers show up at the bakery and are checking the plates on his Harley Davidson. Jax runs out the back of the bakery, jacks a Dodge car from a fat guy, and the high speed chase is on. He ditches the Sheriff's Deputy that is chasing him and lands at a facility Marcus Alvarez, Mayans MC President, owns.
Jax and Alvarez then have a long talk about things and how Nero has sold his half of Diosa to him. They look forward to being business partners. Alvarez is advised of Berosky being the rat and that SAMCRO will deal with him.
This is just a brief look into some of the content we talk about in this episode. You really need to listen in to get into the know about what is going down. We have some great insights and predictions on how this story is going to end.
Stay tuned to the Law Abiding Biker Podcast as there are only 2 SOA Episodes left for the season finale! We have a ton of content coming at you that you won't want to miss.
The SOA series will not air next week and episode 12 will air on December 2, 2014.
Sons of Anarchy Season 6 Episodes
Sons of Anarchy Season 7 Episodes:
Great Music from Sonf of Anarchy! (affiliate links)
Make It Rain (from Sons of Anarchy) – Single – Ed Sheeran
Till It's Gone – Till It's Gone – Single
Bohemian Rhapsody (feat. The White Buffalo, Billy Valentine & Franky Perez) [From "Sons of Anarchy"] – Single – The Forest Rangers
Forever Young (From "Sons of Anarchy") – Single – Audra Mae & Forest Rangers
John the Revelator – Sons of Anarchy: North Country – EP
Girl from the North Country – Songs of Anarchy: Music from Sons of Anarchy Seasons 1-4
Hey Hey, My My – Songs of Anarchy: Music from Sons of Anarchy Seasons 1-4
This Life (Theme from "Sons of Anarchy") – Sons of Anarchy: North Country – EP