Podcast: Play in new window | Download | Embed
Subscribe: Apple Podcasts | RSS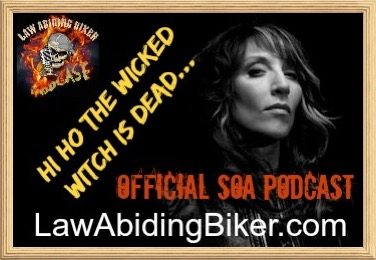 We are covering Sons of Anarchy Television Episode 12, which aired on December 2, 2014 on the FX Network. We only have one more episode, which will air next Tuesday December 9, 2014, before the series finale! We are all so sad that our beloved "fictional" motorcycle club show will be over.
Make sure to bookmark our Live Page, as we will be live next Wednesday December 10, 2014 at 7:00 PM (PST). This will be one night after the season finale airs on FX Network. You absolutely won't want to miss this Live Podcast Episode. Don't worry, if you can't listen live we will be releasing the regular on demand podcast episode on iTunes, Stitcher Radio, TuneIn Radio etc. the following day as usual. We are going to have so much to say and the studio will be full. Lurch, Chewy, and Ryan Urlacher will be live and we hope to have one more mic hot that night. We will likely even have a giveaway!
Here is a brief of what is going on and our predictions
Everything Jax is doing this episode seems to be steering towards his acceptance that he is going to die. He has a leg ailment that we believe to be much more serious than is being let on. He may know that he is going to die and is using that as a reason to square everything away.
He seems to be trying to get all the criminal street hustlers to agree on an ultimate takeover. However, he is leaving SAMCRO completely out of the mix. This is likely because since taking the presidency he has always wanted to get SAMCRO out of criminal activity. That is what his deceased father John Teller wanted and wrote in his secretive journals Jax has been reading.
Jax seems at peace and often smiles even though he will likely die. The SOA presidents meet and Jax admits that he was wrong about Jury, President of the Indian Hills Chapter, being the snitch and in fact it was Charlie Berosky. Jax admits that he was caught up and lied to them & that he killed Jury. The presidents all know that based on this information a Mayhem vote to kill Jax is going to take place. Jax doesn't care and says for the best of the club he will make sure and have all his guys vote for his death. In return Jax wants them to remove and unwritten bylaw/rule, but we are not privileged to know what that is.

Patreon
We believe Jax wants the unwritten rule removed, which is that SOA MC does not allow black members. Remember back that Jax asked the President of the black Grim Bastards MC if he would patch over (join SAMCRO) and who he would bring with him. The President of the Grim Bastards even told Jax that black members were not allowed and Jax told him, "not yet". We believe that the reason Jax wants this allowed is so before his death SAMCRO gains valuable new members and protection of the club.
Many of us were so surprised that Jax actually pulled the trigger on Unser, but most importantly on Gemma, his mother. We think Jax knows that he is going to die, so he will not have to live with the fact that he killed his own mother who had betrayed him.
You see, Jax may believe that only way he ends this senseless violence and lifestyle is to end both Gemma's life and his own. The only way to break the cycle is to make sure they don't exist. This may be the only way that his sons Abel and Thomas don't have to live the very life that both Jax and his father John Teller lived. With Gemma and he gone there will be nobody to introduce them further to this lifestyle of violence and murder
Nero is already taking Wendy and the boys to the farm where he wants to retire from running the Biz Lat street gang. He wants out as bad as anyone and Jax encourages him to take Wendy and the boys. He thanks Nero for taking care of the boys. This further indicates that Jax is going to die and wants to leave the boys in the hands of Nero as a father figure. Wendy will of course be the mother figure.
Jax ends up having intercourse with Wendy at the end of this episode. We believe that Wendy will become pregnant from this and have something to do with the series finale and we may get some glimpses into the future. Will Abel be seen at the head of the SAMCRO table as Chewy has predicted?
We have a ton more predictions and insight into what is going on, but you really have to listen in to get into the know. Don't be confused about what took place or what to expect before the series finale. We break it down for you.
Listen into the #1 Ranked Sons of Anarchy Podcast! Heard in over 40 countries.
SOA Monologue: (Hard not to Hate)

It's hard not to hate. People, things, institutions–when they break your spirit and take pleasure in watching you bleed, hate is the only feeling that makes sense. But I know what hate does to a man. It tears him apart, turns him into something he's not, something he promised himself he'd never become. That's what I need to tell you, to let you know how hard I'm trying not to cave under the weight of all the awful things I feel in my heart. Sometimes my life feels like a deadly balancing act–what I feel, slamming up against what I should do. Impulsive reactions racing to solutions miles ahead of my brain. When I look at my day, I realize that most of it was spent cleaning up the damage of the day before. In that life, I have no future, all I have is distraction and remorse. I buried my best friend three days ago. As clichéd as it sounds, I left a part of me in that box. A part I barely knew, a part I'll never see again. Every day is a new box, boys. You open it and take a look at what's inside. You're the one that determines if its a gift or a coffin.
Sons of Anarchy Season 6 Episodes
Sons of Anarchy Season 7 Episodes:
Great Music from Sonf of Anarchy! (affiliate links)
Make It Rain (from Sons of Anarchy) – Single – Ed Sheeran
Till It's Gone – Till It's Gone – Single
Bohemian Rhapsody (feat. The White Buffalo, Billy Valentine & Franky Perez) [From "Sons of Anarchy"] – Single – The Forest Rangers
Forever Young (From "Sons of Anarchy") – Single – Audra Mae & Forest Rangers
John the Revelator – Sons of Anarchy: North Country – EP
Girl from the North Country – Songs of Anarchy: Music from Sons of Anarchy Seasons 1-4
Hey Hey, My My – Songs of Anarchy: Music from Sons of Anarchy Seasons 1-4
This Life (Theme from "Sons of Anarchy") – Sons of Anarchy: North Country – EP
Slip Kid – Sons of Anarchy: North Country – EP
Adam Raised a Cain – Darkness On the Edge of Town
Come Join the Murder (From Sons of Anarchy) – Songs of Anarchy, Vol. 4 (Music from Sons of Anarchy)