Podcast: Play in new window | Download | Embed
Subscribe: Apple Podcasts | RSS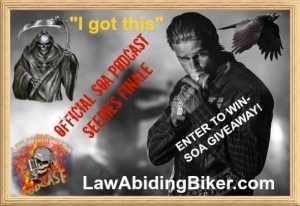 PODCAST-We are covering the Series Finale of the Sons of Anarchy television show, which aired on December 9, 2014 on FX Network and was titled "Papa's Goods". We loved the SOA series and have mostly good things to say about this completely fictional show about a criminal motorcycle/biker club. Many loyal viewers and listeners of this podcast found the series finale to be a bit anti-climatic and not necessarily written to expectations. It seemed rushed and left many things up in the air. Out of fairness, that may have been the purpose to leave room for a follow up show or movie.
Jax ends up tying more things up in preparation for his death. He advises Nero to take the boys to Norco, CA. He does not want them growing up in Charming and his death is to end a saga of bad family and life decisions over generations. Jax destroys all documents left behind by his deceased father John Teller. He also destroys his own journals and wants to leave nothing behind to be dredged up by anyone. He truly wants a better life for his young boys Abel and Thomas. Accompanying Nero and the boys to the farm will be Wendy, who is Jax's ex-wife, but they recently rekindled their relations.
Get all the SOA DVD's (Amazon affiliate link)
Jax received a Mayhem vote from the president's of other chapters that were selected to review the incident where Jax killed Jury, the President of the Indian Hills Chapter, after Jax thought he had ratted to the Chinese where SAMCRO was stashing their guns. Jax accepts this fate and it seems to be part of his overall plan.
After accepting the Mayhem vote his only request was to have one old unwritten club bylaw changed. We learn that he wants each chapter to decide on whether to allow African Americans to patch in. Later, T.O., President of the Grim Bastards MC, is allowed to patch into SAMCRO, changing a long history in the club. We are still not sure why Jax did this other than to do something he saw as good before dying.
Jax has a sit down with Chibs, one of the members he is closest to, and explains his plan to die. He wants to leave the club in good hands and for his boys to be free of the life. Chibs of course has a hard time swallowing this pill, but knows he must trust Jax's decision.
We learn that the suspicious homeless women that has been seen for 7 seasons now is Jax's guardian angel, often in the form of a Raven. He meets her and she gives him the okay that it is time to put this plan into action. She gives him a blanket and we see a shot of her leaving a piece of partially eaten bread and some wine behind. This is clearly a play on Christianity where Jesus gives his disciples bread and wine as a symbol of his body and blood, which was given up to forgive the sins of man.
Need a motorcycle cell phone or GPS mounting solution Bikaholics?

That's right, Law Abiding Biker Media put our logo on these mounts & we personally use them on our motorcycles!

The sexiest, lightest, and strongest mounts available period.
Good prices and fast shipping from our store?
Check out our COMPLETE REVIEW
Jax cleans up some business by killing Berosky in his bakery. Jax then sits on the steps of the courthouse as August Marks is released on bail. Jax has a blanket the guardian angel gave him draped over his head and looks not unlike the reaper. He flings the blanket off of him, stands up, and shoots August Marks ending his reign.
Jax meets with SAMCRO on his father's old Harley. The old Harley has been being fixed up over the past few episodes and he finally gets to ride it. This is the same bike his father John Teller died on in a semi vs motorcycle collision many years ago.
SAMCRO all vote for Mayhem on Jax by the design of Jax. It is not easy, but they all realize it is necessary. Of course they are so close to Jax and don't want the blood on their hands. In a dramatic scene to make it appear that Chibs will actually shoot Jax, instead Chibs shoots Happy in the arm. This is to make it look like Jax put up a struggle with them and got away. This will save shame from the other chapters by not following through with the execution.
Jax hugs each and every member of SAMCRO in a sad goodbye scene. He rides away on his father's old Harley. An APB has been put out on Jax at this point, because he had met with DA Patterson earlier and told her where Gemma and Unser were. Of course investigators quickly found Gemma and Unser's dead bodies and put the pieces together, Jax being the prime murder suspect.
Jax rides to the old rock wall where his fathers date of death is written. Jax has a conversation with his dead father when a CHP officer arrives and within a few minutes learns that he is looking at Jax Teller who has an APB on him.
Jax shoots at the CHP officer and jumps on the old Harley. A long low speed pursuit ensues and Jax keeps riding on with shots of a Raven (his guardian Angel) overhead. There is an entourage of police officers following Jax with light and sirens on.

Patreon
Soon we see a semi-truck coming in the opposite direction. The driver of the semi is the same as the one that gave Gemma a ride north to her father's home in a past episode. He of course is completely unaware of any of this and is just minding his own business. A banner on the side of the truck trailer reads "Papa's Goods".
As Jax and the semi truck close distance Jax veers into the oncoming lane an takes his hands off the handlebars. He puts them into the air in a moment of freedom and acceptance of his fate. He collides head on into the semi truck and dies.
We instantly see two ravens on the shoulder of the road next to the same piece of partially eaten bread we saw from Jax's guardian angel earlier. A pool of blood runs towards the bread and symbolizes wine. The ravens then fly off into the distance. The ravens being Jax and his guardian angel.
In Kurt Sutter' most twisted spin on Christianity, it is though that Jax sacrificed himself for the club and his sons. That is where the symbolisms of Christianity comes into play with the bread and wine.
So, Nero and Wendy likely end up on the farm in Norco. Abel is in the back seat of the car on the way to Norco seen playing with the sons ring that Gemma gave him in an earlier episode. Nobody but Abel knows about this and nobody knows that he has the ring.
It is thought that there may be a spin off show with Abel at the head of the SAMCRO table, thus destroying everything Jax died for. He may dig into his father's past because of the ring. Jax did specifically tell Nero to make sure at some point in the future to tell his boys that he was criminal and killer. He wanted the boys to hate everything about him, so they would not fall into to the criminal lifestyle.
Sheriff Jarry goes on to be a better Sheriff after talking with DA Patterson. She brakes her ties with Chibs and is not on the take anymore. Chibs makes it clear that it is a dangerous decision to be on the wrong side of the club.
Chibs is now the President of SAMCRO and Tig is the Vice President. They now have African American members. The Mayans take over the gun trade and Conner is the number one source for their guns. Conner breaks ties with the Irish and now has his own operation. Tyler of the niners takes over much of the trade of illegal guns and drugs on the streets. All are in together and control the streets.
Tig marries the transvestite Venus and they are madly in love. They likely can't have children together, because Venus still has a penis.
Does SAMCRO enforce the will of Jax and stay out of illegal activity? Or do they fold and get back into illegal activity? Nobody really knows, but Jax purposely left them in a position to stay out of it.
SAMCRO takes the money from Jax's part in Diosa and Red Woody and builds a new clubhouse at Scoops, which is not their homeless. Wendy sells Jax's home and uses the money to help raise the boys.
Nero and Wendy move to the farm and become romantically involved. They raise Abel and Thomas together out of the criminal lifestyle. They live happily ever after, ride horses, and pet goats………..
SOA Monologue: (Being a Man)

There will be days when you'll be forced to make decisions that affect the lives of everyone you love, choices that will change you forever.
You reach an age when you realize that being a man isn't about respect or strength; it's about being aware of all the things you touch.
Children face inward, wallow in their own selfish needs.
Men face out, take action on the needs of others.
I'm at that place, boys. I'm staring one of those decisions in the face and it looks back at me with historical eyes and it calls me a coward, a killer, a fraud. It wants me to crack, and run from the service of my fate like a broken boy.
Today I will not do that. Today, I will be the man my father tried to be.
I will make you proud.
Sons of Anarchy Season 6 Episodes
Sons of Anarchy Season 7 Episodes:
Great Music from Sonf of Anarchy! (iTunes affiliate links)
Make It Rain (from Sons of Anarchy) – Single – Ed Sheeran
Till It's Gone – Till It's Gone – Single
Bohemian Rhapsody (feat. The White Buffalo, Billy Valentine & Franky Perez) [From "Sons of Anarchy"] – Single – The Forest Rangers
Forever Young (From "Sons of Anarchy") – Single – Audra Mae & Forest Rangers
John the Revelator – Sons of Anarchy: North Country – EP
Girl from the North Country – Songs of Anarchy: Music from Sons of Anarchy Seasons 1-4
Hey Hey, My My – Songs of Anarchy: Music from Sons of Anarchy Seasons 1-4
This Life (Theme from "Sons of Anarchy") – Sons of Anarchy: North Country – EP
Slip Kid – Sons of Anarchy: North Country – EP
Adam Raised a Cain – Darkness On the Edge of Town
Come Join the Murder (From Sons of Anarchy) – Songs of Anarchy, Vol. 4 (Music from Sons of Anarchy)