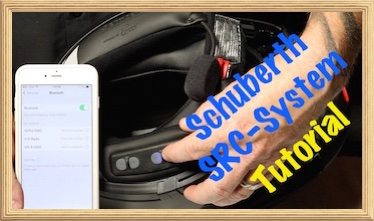 Video-In this free video I show you everything you need to know to successfully set up and operate the Schuberth SRC Bluetooth Headset System. The SRC system was designed by Cardo Communications to be specifically used with the Schuberth C3 helmet by replacing the OEM neck roll pad. The Schuberth SRC is a super slick and clean head set and communications system and you don't have to have a bulky box hanging off the side of your motorcycle helmet.
That's right, you can listen to your music inside your helmet via bluetooth from your smart phone or mp3 player. You can pause/play your music list and even skip songs forward and back with the buttons right on the SRC! The SRC has a built-in FM radio with six programmable presets. You can talk to two other riders with specific Cardo headset systems, making it three-way communications within 1000 feet. Once paired via bluetooth with your smart phone you can make and receive phone calls right inside your helmet via voice commands.
The SRC speakers are plenty loud even while going down the freeway and I never turn the system volume all the way up. I have tested phone calls and the person on the other end can't even tell I am riding my Harley Davidson while talking with them.
Of course I show you how to do all of the above and more with the Schuberth SRC System in this tutorial video, so check it out. You will still want your smartphone attached in front of you on your handlebars with a Biker Gripper Motorcycle Cell Phone Mount to make some things easier and I discuss this in the video.
The only negative with the SRC System is that you can only update the firmware in the unit with a PC and there is no MAC support at this time. That is a failure in my opinion. Only with a PC can you connect your SRC System with the provided USB cable and update the firmware.
You can register your Schuberth SRC at the same above link & will need your serial number
If you appreciate this free information, video, and review then consider using one of our affiliate links below to purchase any items. No additional cost to you, but it helps us with projects like this.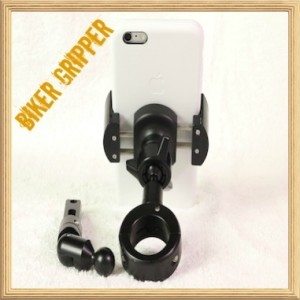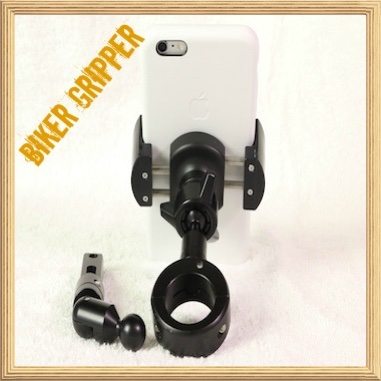 Our Custom Biker Gripper Cell Phone & GPS Mounts
Need a motorcycle cell phone or GPSmountingsolutionBikaholics?

That's right, Law Abiding Biker Media put our logo on these mounts & we personally use them on our motorcycles!

The sexiest, lightest, and strongest mounts available period.
Good prices and fast shipping from our store?
Check out our COMPLETE REVIEW
Join the Free Email Club Now!
If you appreciate free information & videos like this make sure to join the thousands of law abiding bikers that have already joined the free LawAbiding Biker Podcast & Media Email Club!! You will be notified of new useful motorcycle related content as we put them out. Join the Community now!
Further Details & Specifications:
Schuberth SRC System for Schuberth C3 Helmets
The SRC-System is a communication system which is integrated into the acoustic collar. You can install it in your helmet in just a few minutes according to the plug and play principle. Developed in partnership with Cardo Systems, the SRC is a fully integrated bluetooth communication system.
Feature Summary:
Intercom between rider and pillion passenger
Bike-to-bike intercom (up to 300m)
Intercom conference mode for 3 bikers
Mobile phone, MP3, GPS connection
Integrated FM radio with RDS
Sizing
All Schuberth Women's C3W Helmets will take a size "XXS – LG" SRC system
Please ensure you have selected the correct size range that corresponds to your Schuberth C3 Helmet size

ex. If your helmet is a size Medium you would select size range "XXS-LG"
Intercom
Up to 3 motorcyclists can communicate simultaneously with the SRC-System. Under ideal conditions the range is up to 300 meters. range of up to 300 meters depending on the terrain and visual contact
Automatic re-establishment of a connection when it is cut off
Automatic connection set-up by speaking
Automatic connection shut-down after 30 seconds silence, two-channel system for communication
Phone+GPS
The connection between a mobile phone with Bluetooth capability and SRCS is extremely simple to set up. Incoming calls can be accepted with a voice command and using the keys of the SRC-System. This also applies for navigation devices with Bluetooth capability. After the SRC-System has been connected to the GPS device, the rider can receive the voice instructions conveniently over the two ear-phones.
Simple control possible by means of voice commands (VOX)
MP3
Most commonly available MP3 players can be connected to the SRC-System via the multifunctional USB interface. If the MP3 device supports Bluetooth A2DP technology, no cable is required.
Easy to connect thanks to USB
Simple control using the SRC-System's control keys
FM Radio
The integrated FM radio now enables you to listen to your favorite station while you are travelling. Thanks to the RDS function the strongest signal for the selected frequency is always picked up, even at high speeds.
Store up to six radio stations.
RDS function for automatic station adjustment
User-defined programming possible with SRCS software
Note: The SRC System is only compatible with Schuberth C3 and C3W Helmets.
Click here for the SRC System PDF Manual (Scroll down for English)
Schuberth SRC Bluetooth Headset System
Summary
I really like the system and the speakers are plenty loud while riding my Harley down the freeway & listening to music or taking a phone call via bluetooth. It is super easy to install, replacing the OEM neck roll in the C3 helmet. The battery in the SRC is rechargeable and lasts even on long day rides. I like that I can pair the SRC with other Cardo systems and talk with up to two other riders.
I don't like the fact that you can only update the firmware in the SRC with a PC and that there is no MAC support.