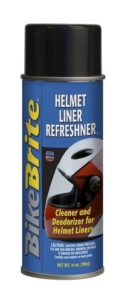 My Police Motorcycle Helmet liner gets very stinky from working daily in 100+ degree temperatures! There's no way not to sweat heavily. The only way I can combat the helmet stink is to routinely spray Bike Brite Helmet Refreshner on the liner. It is a cleaner and deodorizer for helmet liners. Helmet Liner Refreshner cleans, freshens and deodorizes all foam helmet liners. Just spray and wipe dry. I actually just spray it in the liner and let it soak in on its own. I then let it air dry.
GET BIKE BRITE HELMET REFRESHNER HERE
I do take the helmet liner our often and run it through the washing machine for a deeper cleaning. Helmet Refreshner helps me get through the week.
I clean the exterior of my helmet and the inside and outside of the shield with Bugslide waterless motorcycle cleaner. I also clean my leather Police motorcycle boots with Bugslide for daily maintenance. And best of all is Buglside cleans my entire motorcycle in between those wet washes!!
SUPPORT US AND GET THESE PRODUCTS IN OUR STORE!
GET BIKE BRITE HELMET REFRESHNER HERE
GET BUGSLIDE WATERLESS MOTORCYCLE CLEANER
MAIN LAW ABIDING BIKER STORE HOME PAGE
AFFILIATE LINKS
Join the Free Email Club!
If you appreciate this free information make sure to join the thousands of law abiding bikers that have already joined the free Email Club! You will be notified of new useful motorcycle content and techniques as we put them out. Join the Community now!