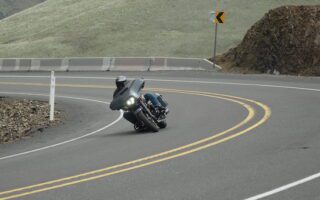 I recently test rode and reviewed the new Harley-Davidson 2022 Street Glide ST. Harley shipped me the bike and let me have it for 30 days so I was able to really evaluate it. Check out this real-world biker review of the Harley Street Glide ST (see video below)
This bike was a dream to ride and overall performed very well. This bike comes with the Milwaukee-Eight 117 ci air/oil cooled V-Twin engine with a heavy breather, making around 106 horsepower and 126 ft. lbs. of torque. That was apparent when I got into the power band at around 3500 rpm. The bike has plenty of get up and go and you can easily pass and get around slower traffic.
This bike was inspired by the King of the Baggers series and you should really check it out if you haven't. This ST sits an inch higher than a Harley Street Glide Special model, which makes it the same height as models such as the Ultra Limited. This provides for more lean angle on the ST model and I found that to be the case during my testing.

Harley was able to shave 13 lbs off the Street Glide ST in comparison to a Street Glide Special model, making the ST weigh in at around 814 lbs in operating condition. Some of the weight savings are because the Harley Street Glide ST only comes with a solo seat and has no passenger pegs but you can add both after purchase. The saddlebags are also squared off and don't contour the mufflers like on the special models.
The Street Glide ST has a 19-inch front tire and 18-inch rear tire, 49 mm dual bending valve front forks, premium standard height (13 inch) hand-adjustable rear suspension, dual front and single disc rear brakes, 6 speed transmission, Boom Box GTS Infotainment System, and 6 gallon fuel tank. The ST gets 41 mpg in premium operating conditions.
The Harley Street Glide ST is a great foundation if you are going to build it out as more of a hot rod. It was designed for weight, power, and performance and for it to be faster, more nimble, and have more lean angle. And, for the first time you get that CVO power train in a non-CVO bike
The ST is really a blank canvas for performance parts and you could easily make the Milwaukee Eight 117 ci engine a 131 ci engine with a stage four kit. There are plenty of OEM Harley performance parts for the Street Glide ST to include Ohlins suspension.
And as always, you'll get an honest review on this website and on our YouTube Channel. Yes, Harley loaned me the bike but in no way was I paid for this review and Harley has never told me what or what I cannot say or I simply would not do these reviews.
Pros:
I really liked the stock stereo system with the Boom Box GTS Infotainment System with two-way speakers and it was pretty loud and clear, even when traveling at freeway speeds with a full face helmet. During the time we had the ST we did a Boss Audio Stereo/Amp Kit install on another bike and tested it against the stock Harley system. Of course, the Boss Audio system was much louder.
I like that the Harley Street Glide ST sits an inch higher for that extra lean angle and I really liked the look of the differing front fender.
I am 5′-08″ tall and the bike fit me fine and I was flat footed when stopped with plenty of bend in my knees. The stock seat was pretty comfortable and has a nice curve up in the back, keeping you in the saddle when rolling the throttle and giving some lower back support. But, if I was long distance touring I'd replace the seat.
The stock suspension performed very well, even when on a gravel road with potholes.
Overall, this bike was a dream to ride and I hated giving it back after our 30 days with it.
Cons:
The Boom Box Infotainment System does not come with a WHIM (Wireless Headset Interface Module) out of the factory. The WHIM allows you to have Bluetooth headset connectivity with the Boom Box while using a Harley branded Sena wireless headset. You need this to activate both Apple Car Play and Android Auto. You can also use a Harley branded 7 pin wired headset instead. If you want any wireless headset functionality though, you'll have to add a WHIM during or after your purchase. I think that all Harley's with the Boom Box should come stock with the WHIM like the CVO models do.
The Harley Street Glide ST comes with a LED headlight and taillight but the front and rear signals are still halogens.
Lurch is 6′-4″ tall and also test rode this bike. He reported that his shin was up against the heavy breather and that he'd have to change that out immediately with a lower profile air intake. He'd also move the floorboards forward, install an extended brake pedal, and install taller handlebars.
Final Thoughts:
Really, the question is whether you spend the extra $2,500 on the Harley Street Glide ST or save it by buying a Street Glide Special.
I'd say that if you are really looking to have a hot rod of a bike, add many performance parts, and really push it in the corners then the ST should be your choice.
If your looking to do more relaxed riding, tour long distances, and maybe have a passenger, the Street Glide Special is all set up for that upon purchase with a passenger seat and pegs and is $2,500 less. But, it does have the smaller Milwaukee-Eight 114 ci engine with a few less horsepower and overall torque. It's still a great engine and has plenty of power for most.
With that said, make no mistake about it, the Harley Street Glide ST would be awesome too for long distance touring if you set it up with a passenger seat and pegs.
Overall, I can say that you will not be disappointed if you buy the Harley Street Glide ST and it was a dream to ride.
Links mentioned in the video:
The Riding Gear We Wore During This Video:
If you appreciate all the free content we put out, please consider supporting us by using our affiliate links below. No additional cost to you and if you do click through and make a purchase we do get a small commission. Thanks in advance.
HELP SUPPORT US! JOIN THE BIKER REVOLUTION! #BikerRevolution #LawAbidingBiker
🛒SHOP IN THE LAW ABIDING BIKER STORE 🛒
😎BECOME A MEMBER AND GET BENEFITS 😎
📹GET PREMIUM MOTORCYCLE TUTORIAL VIDEOS 📹
🎬WATCH OUR MOTORCYCLE DOCUMENTARY FILMS HERE🎬
🎙CHECK OUT THE WEEKLY PODCAST 🎙
Join the Free Email Club!
If you appreciate this free information make sure to join the thousands of law abiding bikers that have already joined the free Email Club! You will be notified of new useful motorcycle content and techniques as we put them out. Join the Community now!