Free Video By Bikers for Bikers
VIDEO-In this DIY video we show you how to easily remove a bolt from a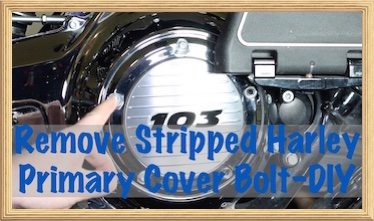 Harley Davidson primary cover where the head has been stripped out. These primary cover bolts are a torx drive T-27 and can easily be over tightened and the heat tends to weld them in a bit. We have an easy fix for you, so take a breath and relax.
These Harley primary cover bolts get removed each time you do an oil change, so that you can fill the primary drive back up with oil. Save a ton of money and get on board with bikers all over the world that are now doing their own maintenance oil changes right in their garage on the kickstand with minimal tools after watching our very popular Harley Davidson Oil Change & Routine Maintenance Video!
The T-27 torx drive can slip or not get a good enough bite, thus slipping and stripping the heads at times. Even dealerships deal with this problem constantly with ease. It is nothing to worry about, so take a breath and let us show you an easy fix in this free video.
In this video we introduce you just one type of bolt extractor tool that can be purchased at your local hardware store or by using our Amazon Affiliate Link Here. There are many different styles of bolt extractor type tools.
Extract Remove Harley Davidson Primary Cover Bolt Stripped Head

If you appreciate free information and techniques like this make sure to join the thousands of law abiding bikers that have already joined the free Law Abiding Biker Podcast & Media Email Club!! You will be notified of new useful motorcycle content and techniques as we put them out. Join the Community now!