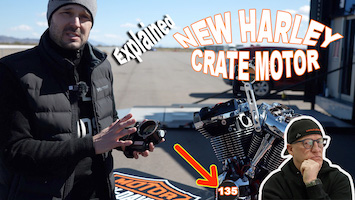 I recently had the opportunity to attend a pre-season practice session of the Harley-Davidson (H-D) King of the Baggers (KOTB) factory race team. I was able to observe the team and riders at work as they prepared for the 2023 KTOB season. Harley-Davidson had a surprise for us and we were under an embargo until March 1, 2023. What that means is I've had to keep this news to myself. Well, the time is here! Harley-Davidson released the all-new 135 cubic inch crate engine. (See video below)
Check out my Harley-Davidson King of the Bagger testing videos:

Jason Kehl, Manager of Engineering Harley-Davidson Sreamin' Eagle, gave us a walk-through of the new 135 c.i. engine. The 135 was built directly with information gathered from the Harley-Davidson KOTB race team. Built on the Harley-Davidson 131 Milwaukee 8 platform, the larger 135 was achieved through on the stroke. It is 4 cubic inches larger or roughly three percent. Although there was a three percent increase in displacement there was actually a ten percent increase in horsepower and torque.
So here is what changed from the 131 to the 135:
A 68-mm throttle body (as compared to a 64-mm)

Mated to a C&C ported 68-mm aluminum intake manifold
Developed and ran on 2022 H-D KTOB bikes

New pin height on the piston to account for the stroke

This compressed the available space for ring seals
Gas porting is on the top ring

Screamin's Eagle oil pump and cam plate standard
Fuel injectors increased to 5.5 grams per second with new injector targeting

The 135 comes fully assembled and inspected by the factory. They say it's a petty easy change out. The price of the new 135 c.i. engine will be around $8,000 dollars and comes with the Screamin' Eagle warranty.
KING OF THE BAGGERS 2023 SCHEDULE AND TICKETS
HELP SUPPORT US! JOIN THE BIKER REVOLUTION! #BikerRevolution #LawAbidingBiker #Bikaholics
🛒SHOP IN THE LAW ABIDING BIKER STORE 🛒
😎BECOME A MEMBER AND GET BENEFITS 😎
📹GET PREMIUM MOTORCYCLE TUTORIAL VIDEOS 📹
🎬WATCH OUR MOTORCYCLE DOCUMENTARY FILMS HERE🎬
📱SHOP OUR AMAZON RECOMMENDED PRODUCTS 📱
🎙CHECK OUT THE WEEKLY PODCAST 🎙
Join the Free Email Club!
If you appreciate this free information make sure to join the thousands of law abiding bikers that have already joined the free Email Club! You will be notified of new useful motorcycle content and techniques as we put them out. Join the Community now!