Podcast: Play in new window | Download | Embed
Subscribe: Apple Podcasts | RSS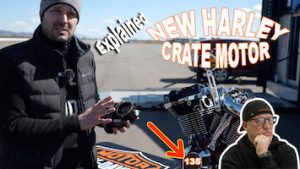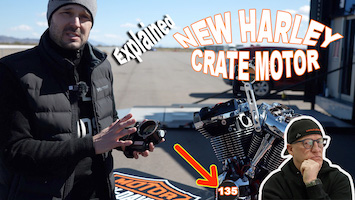 In this episode, I'm joined by Lurch and we talk about the all-new Harley-Davidson 135 crate engine. We also talk about the modifications Harley has made to their King of the Baggers (KOTB) bikes to make them handle and go as fast as they do.
The 135 was built directly with information gathered from the Harley-Davidson KOTB race team. Built on the Harley-Davidson 131 Milwaukee 8 platform, the larger 135 was achieved through the stroke. It is four cubic inches larger or roughly three percent. Although there was a three percent increase in displacement there was actually a ten percent increase in horsepower and torque.

So here is what changed from the 131 to the 135:
A 68-mm throttle body (as compared to a 64-mm)

Mated to a C&C ported 68-mm aluminum intake manifold
Developed and ran on 2022 H-D KTOB bikes

New pin height on the piston to account for the stroke

Piston size as far as height is less making more space in the cylinder

Screamin' Eagle oil pump and cam plate standard
Fuel injectors were increased to 5.5 grams per second with new injector targeting
The 135 comes fully assembled and inspected by the factory. They say it's a petty easy change out. It's a drop-in for the 2021 and later M8 touring bikes. The price of the new 135 engine will be around $8,000 dollars and comes with the Screamin' Eagle warranty.

Fits '21-later Touring models equipped with air/Oil-Cooled Milwaukee-Eight® engine. Does not fit Trike models. Requires separate purchase of Head Pipe P/N 65600177 and Oil Cooler Fan Assist P/N 62700204 or Fan for Factory Oil Cooler P/N 26800195. All models require ECM recalibration with Screamin' Eagle Pro Street Tuner for proper installation. Does not fit California models.

The KOTB bikes are required to start with a stock frame. Here is a list of modifications done to the KOTB bikes:
The 131 c.i. (2146 cc) engine (approx. 150 horsepower and 150 foot-pounds of torque)

Compression is pumped up with high-performance pistons

Racing cam

Larger fuel injectors

Larger Throttle Body and Intake

Racing exhaust

Upgraded cooling

Larger oil cooler in the fairing

Extended cooling fins on engine

Horn fangs (scoops air onto the rear cylinder)

More ground clearance for improved lean angle

55 degrees as compared to the stock 32 degrees

Ohlins Screamin' Eagle suspension

Inverted front

Rear shocks have external reservoirs

Mid foot controls

Up and back for more of a forward racing position

Aluminum primary cover designed for maximum lean angle

Transition is GP shift bike

Reduced weight

Removed non-essential parts

Usage of carbon fiber and aluminum parts

The bikes are around 635 lbs as compared to a stock bike at 850lbs

17-inch cast aluminum wheels to run the Motoamerica-approved Super Bike racing slicks

Chain Drive

Aluminum swing arm

removes the need for idle gear

for chain conversion – had to get around the stock swing arm

Brembo 4-piston brake caliper and 300 mm rotors

Race seat designed for individual riders

Tank formed for racers' legs/knees

Racing grips, levers, and controls
NEW FREE VIDEO RELEASED:
Sponsor-Ciro 3D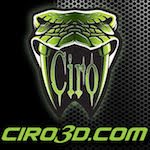 Innovative products for Harley-Davidson & Goldwing
Affordable chrome, lighting, and comfort products
Ciro 3D has a passion for design and innovation
Sponsor-RickRak

The Ultimate Motorcycle Luggage Rack Solution
Forget those messy straps and bungee cords
Go strapless with a RickRak quick attach luggage system & quality bag
Sponsor-Butt Buffer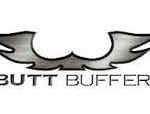 Want to ride longer?
Tired of a sore and achy ass?
Then fix it with a high-quality Butt Buffer seat cushion?
New Patrons:
Kevin Underhill of Puyallup, Washington
Michael Mylle of Tienen, Belgium
Walter Oliver of Beaufort, California
Alain Decelles of Chateauguay, Quebec, Canada
Michael Walther of Arnold, Missouri

Steven Wolff of Bradenton, Florida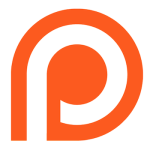 Timothy Victor of East Norriton, Pennsylvania
Meggan Nix of Lake Charles, Louisiana
Walter Oliver of Beaufort, South Carolina
Join the Free Email Club!
If you appreciate this free information make sure to join the thousands of law abiding bikers that have already joined the free Email Club! You will be notified of new useful motorcycle content and techniques as we put them out. Join the Community now!