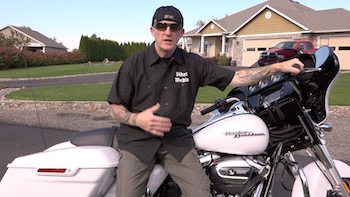 Video-In this completely free video I give you a complete walk-around and explanation of the new 2017 Harley-Davidson touring line up with the new Milwaukee Eight 107 cubic inch motor. I'll tell you all you need to know from a real biker's perspective and what it really means for all of us Bikaholics! I got ahold of a crushed ice pearl colored 2017 Street Glide Special for this video overview.  A special thanks to Owen's Cycle Inc in Yakima, WA for their ongoing support of Law Abiding Biker™ Podcast & Media. Don't forget to check out my test ride video of this bike!
Information:
The Milwaukee-Eight motor has four valves per head in hemi heads for a hotter, faster, more efficient burn and better spread of heat. Cooler operation is the overall goal. Less combustion heat is picked up by a shallower four-valve combustion chamber, and more heat is dissipated by large-area head cooling fins. It also has dual spark plugs, exposing heads and pistons to flame for a shorter time. There are also anti-knock sensors on the heads, ensuring more precise firing.
Replacing the 103 cubic inch, the Milwaukee-Eight motor comes in a 107 cubic inch (1750 cc) for the regular 2017 Harley touring line-up and a 114 cubic inch (1870 cc) for the CVO models. The oil cooling system has been redesigned and is a much larger.  The heads will be oil cooled for bikes like the Street Glide and Road Glide, while bikes like the Ultra Classic will be twin cooled by both water and oil. They place the radiators for the water cooling in the lower fairings attached to the engine guards.  Air cooling is still a big part of the overall cooling system.
The eight-valve motor was a complete redesign with new cases, cylinders, heads, and flywheel. Much of the previous twin cam mechanical chatter on this new motor is gone with the new four-lobe single cam design. Noise reduction was a big part of the design of the Milwaukee-Eight motor. It is still a chain driven cam with an auto adjusting hydraulic tensioner. The flywheel has been reweighted to increase inertia by 20 percent.  The motor uses hydraulic lifters, removing the need to adjust valves ever again.
There is also a new air intake.  Overall airflow capacity of the eight-valve motor is 50 percent greater than that of previous engines, and the throttle body now has a 55mm bore. A free-flowing intake airbox is engineered for low noise and to intrude less into the rider's leg.
The motor uses dual spray fuel injectors and the oil capacity of this new motor is 4.5 quarts compared to the 4 quarts on the 103 ci motor. In the past, if the oil was overfilled, excess oil could wet the air filter via the breather. This has now been rerouted through the transmission case.
There is much less shaking of the Milwaukee-Eight motor. Idle rpm has been cut from 1,000 to 850 rpm in the interest of better sound and less heat. For the first time in a rubber-mounted Big Twin, a single counter-rotating internal balancer is used to cancel 75 percent of the engine's primary shaking force.
The catalytic converters in the exhaust pipes have been moved back, thus less heat on a riders legs. Exhaust temperatures are 100 degrees less now.
Harley says there is 10% more torque available as soon as you want it.  Performance at 0-60 mph is about 2-3 bike lengths faster than the 103 ci motors. Roll on power at 60-80 mph is about 2 bike lengths faster. The transmission was also changed to suit the goal of achieving a wider spread of performance from a noise, comfort, and speed perspective. A hydraulic Brembo clutch, a balancer, an anti- backlash gear (spring loaded first gear), and a slimmer primary increase smoothness and decreases noise. Clutch pull at the lever is 7 percent less.
The new charging system produces 50% more power.  The big new external-rotor 18-pole alternator makes plenty of juice at lower 850-rpm idle.


The Milwaukee-Eight engine produces more power while still maintaining similar or better range per tank, so that points to the Milwaukee Eight's mpg being the same or better as the Twin Cam's.
The front suspension is redesigned and is a 49mm fork.  They developed a unique solution with Showa to decrease weight over a cartridge system, improve high-speed stability, and low-speed ride quality. Also, no more air adjustable rear shocks on Harley touring models. They will all be equipped with premium rear shocks now. The new emulsion shocks increase ride quality, but also increase preload capacity by 30%, and only need one-handed adjustment.
Join the Free Email Club!
If you appreciate this free information make sure to join the thousands of law abiding bikers that have already joined the free Email Club! You will be notified of new useful motorcycle content and techniques as we put them out. Join the Community now!