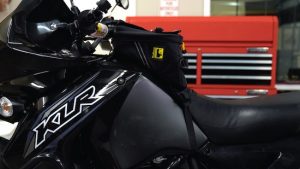 I bought this Wolfman Blackhawk Tank Bag for my 2018 Kawasaki KLR 650 for a few reasons. I'll admit, it's a pretty expensive tank bag but once you get it in your hands I can assure you that you'll quickly realize that it's a high-quality tank bag that is going to last for a long time in adventure riding conditions.
Wolfman has a line of different size tank bags and the Blackhawk sits right in the middle with an 8-liter capacity. When strapped to my KLR, the top of the Tank Bag sits right at the top bar on my handlebars. I think it's the perfect height and it's not too bulky like some other larger tank bags. The tank bag also incorporates fore and aft flexibility allowing the rider to get the perfect bag placement on the tank.
The Wolfman Blackhawk Tank Bag comes with a universal 4 point harness for securing the bag to most adventure motorcycles. In this video, I review the tank bag and show you how to secure and mount the bag to a Kawasaki KLR 650. I found the online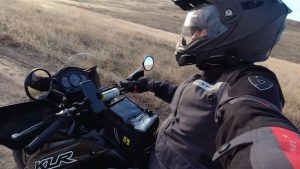 instructions on Wolfman's own website were outdated as are other online videos. I emailed Wolfman and they were kind in giving me updated information on how to properly mount the tank bag to a KLR.
The Wolfman Blackhawk Tank Bag has an outside pocket and an internal mesh pocket under the top. The silver interior makes it easy to see the contents of the bag. A small removable/adjustable bungee-cord across the top provides a convenient spot for gloves while fueling. I really liked that the inside of the bottom of the tank bag is padded to help protect more sensitive items I place in it.
Additionally, on top, there is a clear map pocket. Wolfman has taken the traditional map pocket and made it more useful to riders who use electronics by incorporating a strip of loop velcro material inside the pocket and they also include a strip of adhesive hook velcro to attach to your smartphone, GPS, or other electronic devices.
If you appreciate this video and information, please consider using the below affiliate link to purchase this tank bag or others. No additional cost to you, but if you make a purchase we get a small commission and it helps us continue our mission to help and entertain as many bikers as we can worldwide.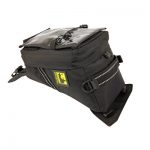 Other Features and Specs:
Heavy Duty 1680 Denier Ballistic Nylon construction.
Easy to find yellow cord on main opening zipper sliders.
Heavy Duty #10 YKK Main Zipper, and YKK zippers used throughout the bag.
The foam structure gives the Blackhawk Tank Bag. "Soft-Rigidity", allowing the bag to flex.
The silver interior makes it easy to see the contents of the bag.
4 point quick-release universal mounting system.
New-style exterior removable map/clear pocket with interior "loop" strip to stabilize electronics (1 Strip of adhesive "hook"–Included).
Outside zippered pocket.
Interior zippered mesh pocket and key clip.
Reflex webbing accents and carry handle for nighttime visibility.
Non-scratch, non-skid bottom.
Built-in the USA with legendary Wolfman care and quality.
Length: Top 9″ (22 cm) Bottom: 11¼" (28cm)
Height: Front-Facing Rider- 8″ (20cm) Rear: 3 1/2″ (9cm)
Width: 7″ (17cm)
Capacity: 8 Liters