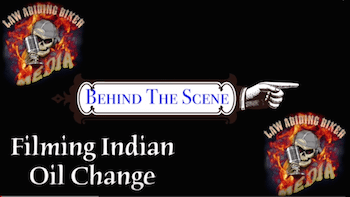 Come behind the scenes with us a bit here at Law Abiding Biker Media. Join us in the garage/film studio as we crank out another video for all you Bikaholics.
We had a 2014 Indian Chieftain on the motorcycle lift for you all. We were filming a complete maintenance, oil change, and safety inspection.
We show you a bit about all the work that goes on behind our videos along with the cameras and lighting. We started years ago with nothing more than a handheld camcorder.
With a ton of hard work and support from the community we have much more professional equipment now to film & edit videos.
The Indian Maintenance Video will be out in the near future and you can check below for availability.