VIDEO-BLOG-REVIEW-#LawAbidingBiker
I have never been one to like the traditional leather style motorcycle biker gloves that you see many riders/bikers wear.  They are hot and restrictive to me.  I have tried many cloth type motorcycle biker gloves in the past, but with many the stitching comes apart, they are hot, or just poorly made.
I decided to purchase the Fox Bomber motorcycle biker gloves.  These gloves are most likely worn by motocross riders.  I am a Harley Davidson rider (Street Glide) and I like these types of gloves for street riding.  I'm certain many sports bike enthusiasts wear these or similar type gloves.
I purchased these gloves from Rocky Mountain ATV & MC, which I have had very good luck with in the past.  They have many street biker motorcycle products in stock, reasonable prices, and they ship fast.  I have never had a bad experience with them.  

  So I ordered the Fox Bomber motorcycle biker gloves in size large for $49.95 + $7.00 shipping and handling (Total= $56.95).  The sizes run true, as I am usually a large in motorcycle biker gloves.  They were on my door step in less than 72 hrs!!  This has been my experience with Rocky Mountain ATV and MC in the past.  You should really check them out.  Here is an image of the Fox Bomber motorcycle biker gloves, but I really get in-depth in the videos (bottom) and show them.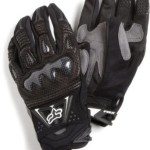 Overall, I am pleased with the Fox Bomber motorcycle biker rider gloves out of the box.  They are very flexible, breathe well in hot weather, are pretty well stitched, and have carbon fiber knuckles.  In addition, they are very light and you hardly know you are wearing them.  They have a sticky type synthetic material on both gloves on the inside of the index and middle fingers.  This material really sticks to your front brake lever and clutch lever!  I was really surprised at how well that material helps from slipping off the levers.
Unfortunately, after putting 3,000 miles on the gloves in about a month of riding, I noted a few problems with the craftsmanship of the gloves.  There are rubber stubs, for a lack of better term, on the top of each finger and each has two vent type holes in them.  The rubber stubs began peeling back, and I could see that they were only glued down in the factory.  There was no stitching to hold the rubber finger stubs on and I was disappointed.  Fox really needs to fix this problem and stitch the rubber finger stubs down already.  I can see that this problem will only get worse in time and they will likely fall all the way off.  I would hate to see what would happen if wearing the gloves for motocross?  I only used them for street motorcycle riding and this problem occurred.
Next, the fabric on the inside of my index fingers is now fraying.  I believe this is due to friction where the inside of my index fingers meet the inside of the grips and rub.  This is also not good and will become a bigger problem in time.  The stitching is holding well in these areas, but the fraying of the material is very apparent.  Fox needs to reinforce this area to fix the problem.
For a further in-depth look at the Fox Bomber motorcycle biker riding gloves, please view part 1 and part 2 of the videos below.
We will also be discussing the Fox Bomber motorcycle biker gloves in an upcoming episode of the Law Abiding Motorcycle Biker Podcast, so check it out!
Part 1
Part 2